06.24.09
home | metro silicon valley index | music & nightlife | band review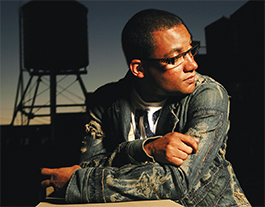 Afro-Cuban Keynoter: Gonzalo Rubalcaba performs June 27 at the Stanford Jazz Festival.
All That Jazz
Stanford welcomes jazz greats to annual six-week festival
By Garrett Wheeler
LIKE THE jazz tradition itself, the Stanford Jazz Festival is built on musical breadth and an unwavering dedication to creativity and innovation. Since its inception 38 seasons ago, the concert series has provided local audiences with a unique perspective of the culturally vibrant world of jazz.
From Latin jazz heroes Gonzalo Rubalcaba and Paulo Bellinati to acclaimed local artists Frederick Harris and Taylor Eigsti, this year's lineup is rich with diversity and packed with enough talent to please even the most studied jazz aficionado. In addition to the dozens of heralded performers presented over the six-week span, June 26-Aug. 8, a variety of educational and youth-oriented programs will also be featured, giving students of all ages a chance to better understand the vast complexities of jazz.
The festival kicks off June 26 with master saxman James Moody, an institution in the jazz community since the 1940s. Moody began his professional career as a player in Dizzy Gillespie's bebop orchestra before launching into a solo career, picking up the alto sax (he started on tenor) and flute along the way. His astonishing command of all three instruments is perhaps unprecedented, and his recordings for industry leaders Blue Note, Prestige and Vanguard are essential components of the modern jazz canon.
His best-known composition, "Moody's Mood for Love,"became an international hit in 1952 after vocalist King Pleasure wrote and recorded lyrics to the number. Still a lauded performer across all jazz platforms, Moody, with his quintet, is dedicated to preserving the timeless sounds of bebop while continuing to add to its innovation.
Another standout, Keith Terry, performs on June 27 alongside his Crosspulse ensemble. Keith takes audiences on a journey far outside the confines of traditional music, using his own body as a percussion tool, clapping, stomping, rubbing and jumping his way through songs. Part jazz, part clog dancing; Keith's shows are as much about performance as they are about music--perfect for viewers of all ages. He will also perform with the Crosspulse Rhythm Duo, featuring dancer/multi-instrumentalist Evie Ladin, as well as the Crosspulse Percussion Quintet. (The 10am show is geared for kids 5 and under; at 11am, it's for ages 6 and over.)
Pianist Gonzalo Rubalcaba, who plays June 27 at 8pm, is hailed as one of the most important figures in Afro-Cuban jazz, having established a seamless and complex style that merges together elements of both Cuban and American jazz. After honing his chops as a member of Cuba's longstanding Orquestra Aragon, Rubalcaba formed his own band, Grupo Proyecto, in 1985. Later that year, he was discovered by Dizzy Gillespie and bassist Charlie Haden, who immediately helped him secure a contract with Blue Note Records. His 1991 LP The Blessing became an instant classic, propelling Rubalcaba into jazz stardom. He has multiple Grammy Awards to his credit and one of the most distinctive piano styles in music.
After performances by Cuban drummer Dafinis Prieto on June 28 and singer Bobbe Norris on July 3, fans of popular jazz will be treated to "Songs of Sinatra: An American Celebration,"on July 5. The tribute to Ol' Blue Eyes features trombonist/vocalist Danny Grewen alongside multi-instrumentalist Jim Rothermel, sax player Noel Jewkes, pianist Larry Dunlap, bassist Seward McCain and drummer Vince Lateano.
The trombonist Wycliffe Gordon brings his wild improvisations to the stage on July 10, followed by an educational performance by Stanford Jazz Workshop founder Jim Nadel and friends, which will focus on woodwinds and stringed instruments. Jazz violinist Regina Carter and her Quintet perform on July 11, with Jeff Sanford on clarinet and flute. Jazz listeners will be delighted by the seminar "Everything You Wanted to Know About Jazz (But Were Afraid to Ask)"on July 12. Jim Nadel will once again take the stage, answering any and all questions with his encyclopedic knowledge of the genre. A full band including saxophonist Dayna Stephens will be on hand to help illustrate Nadel's lessons.
Jazz singer Wesla Whitfield gives her distinctive interpretation of the Great American Songbook on July 12. Paul Bellinati, the famed Brazilian guitarist, performs on July 17 along with special guests Carlos Oliveira and Harvey Wainapel. Saxophonist Donald Harrison plays on July 18, followed by San Francisco native Wayne Wallace and his Latin Jazz Quintet on July 19 and pianist Frederick Harris on July 20. Acclaimed guitarist Julian Lage showcases his new international group on July 21. Ruth Davies and guitarist Elvin Bishop perform on July 22; Melecio Magdaluyo plays standards on his July 23 gig. Drummer and bandleader Matt Wilson presents his Sonic Garden Quartet on July 25, and Menlo Park native Taylor Eigsti performs on July 26.
From there, the Jazz Festival continues with performances by drummer Jaz Sawyer on July 27, pianist Jeb Patton and his Trio on July 28, the Stanford Jazz Mentors on July 30 and vocalist Madeline Eastman on Aug. 1. The Heath brothers play on Aug. 2, followed by the Generations Jazz Project on Aug. 3 and a tribute to Stan Getz on Aug. 4. The festival concludes with the Mulgrew Miller Trio on Aug. 5, an Allstar Jam on Aug. 7 and finally the Dena DeRose Quartet featuring Steve Davis on Aug. 8.
THE STANFORD JAZZ FESTIVAL takes place June 26-Aug. 8 at Dinkelspiel Auditorium and Campbell Recital Hall at Stanford University. For tickets and inquiries, visit StanfordJazz.org or call 650.736.0324.
Send a letter to the editor about this story.