06.24.09
home | metro silicon valley index | music & nightlife | band review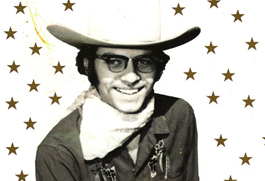 STARDUST MEMORIES: A Japanese CD celebrates the legacy of the Stardust Cowboy.
The Legendary Stardust Cowboy
By Steve Palopoli
THE COUNT FIVE aren't the only cult legends hiding away in San Jose. From even deeper in the primordial proto-punk ooze, the most harrowing rock & roll singer of all time occasionally rises up onto a South Bay stage to remind the blown minds in the audience how dangerous music can sound.
Born Norman Carl Odam in 1947 in Lubbock, Texas, the Ledge--as he is known to this day for reasons obvious to anyone who has heard him play--spent his teens performing anywhere around town that he could get away with it.
According to legend, it was two Fort Worth vacuum-cleaner salesmen who financed his insane 1968 debut single, "Paralyzed," which was produced by a 20-year-old T-Bone Burnett. What he opened his mouth to sing on that fateful day was: "I've got a gal, way cross town, she won't come see me unless I pull my shades down." What it sounds like on the record can't even be phonetically spelled out, though a loose approximation might be "AYYYAAAAAGGGAAAA! WAAAAHASSHHHA! ILSHABOOSHYA!" At certain points he simply squawks roughly to the beat like an eagle on PCP. The guitar and drums fall all over themselves in the two-minute race to the finish. There is a bugle solo, which would become a LSC trademark.
This is the song that makes the other towering tunes in the rock-primitivism canon--Hasil Adkins' "She Said," or the Phantom's "Love Me"--sound downright quaint. But maybe this says it all: not even the late, great Lux Interior of the Cramps, who covered both of those songs and just about every other slab of vinyl psychosis, had the balls to give "Paralyzed" a go.
After a few television appearances and an album (not until '84!), the Ledge settled into semiobscurity here in San Jose, his incredible music rarely acknowledged for its role in keeping rock music unsafe. He must not be missed.
THE LEGENDARY STARDUST COWBOY performs with HAYRIDE TO HELL and BEACHKRIEG on Friday (June 26) at 10pm at the Blank Club, 44 S. Almaden Ave., San Jose. Tickets are $10. (408.29.BLANK)
Send a letter to the editor about this story.