06.24.09
home | metro silicon valley index | the arts | stage | review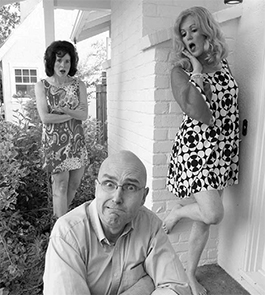 CHOICES: Paul Wells tries to juggle two spouses (Jean Naughton, left, and Kate Phillips) in 'Run for Your Wife.'
Double The Fun
Palo Alto Players find the absurdity of a man with two mates in 'Run for Your Wife'
By Giuseppina Chiaramonte
JOHN SMITH (Paul Wells) is an ordinary cab driver, with a not-so-ordinary secret: he has twice as many wives as most men. He lives a happy life in Streatham with his wife Mary (Jean Naughton), and another, equally happy life in Wimbledon with his wife Barbara (Kate Phillips). But Smith's world begins to unravel when he receives a blow to the head (while trying to break up a mugging--don't ask) and mistakenly gives both of his addresses to the hospital where he is treated. It's a classic trope of British comedy, with a made-for-PBS plotline you can practically imagine filling the minutes between the pledge breaks: "Take one man, add two wives and a dash of that wacky British sense of humor, and you've got Run for Your Wife, Ray Cooney's madcap play about bigamy and deception."
The Palo Alto Players close their 2009 season with this nutty and at-times-delightful farce, in a production that has the power to keep audiences on their toes with its quick-witted dialogue and smooth delivery. While entirely lacking in serious substance, Run for Your Wife is both captivating and charming, a welcome amusement for the summer months.
Things start to heat up when Smith is reported missing by each of his wives, and two detectives get involved--one (John Baldwin) in Streatham and the other (Mark Rawlins) in Wimbledon. Smith enlists the aid of Stanley Gardner, his bumbling neighbor (Jonathon Ferro), and together they perform a series of ridiculous comedic back-flips in a valiant attempt to get both of Smith's lives back on schedule. Directed by Dave Sikula, Run for Your Wife succeeds in keeping its pace and the audience's interest. Wells' portrayal of Smith might not evoke pity but keeps viewers in suspense about what might happen next. On the other hand, Ferro's Gardner is pitiable, despite his obnoxious laugh and repellant mannerisms. Naughton's over-the-top performance, though extreme at times, showcases Mary's overbearing personality and contrasts with Phillips' aloof and bewildered Barbara.
The performers do not miss a beat, dishing one line after another and entangling themselves in a vibrant mesh of hilarity and what The New York Times, in a 1989 review, called "troubled entendres." The 1960s set artfully places both homes onstage at the same time, allowing the audience to witness John Smith's double lives while their protagonists cannot. Heightened by a colorful set, colorful costumes and a colorful cast, Run for Your Wife is a lighthearted escape that might make our own busy schedules seem simple.
RUN FOR YOUR WIFE, a Palo Alto Players production, plays Thursday-Saturday at 8pm and Sunday at 2:30pm through June 28 at the Lucie Stern Theater, 1305 Middlefield Road, Palo Alto. Tickets are $30. (650.329-0891)
Send a letter to the editor about this story.