06.25.08
home | metro silicon valley index | movies | current reviews | dvd review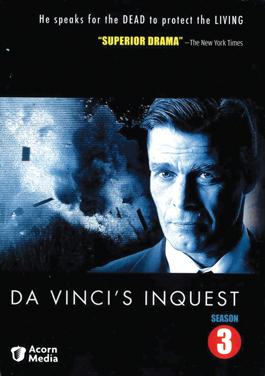 Da Vinci's Inquest: Season 3
Four discs; Acorn Media; $59.99
By Michael S. Gant
Before there was CSI, there was the Canadian forensics series Da Vinci's Inquest, which ran from 1998 to 2005. Nicholas Campbell (a frequent presence in David Cronenberg movies) plays Dominic Da Vinci, a Vancouver coroner who rubs both superiors and suspects the wrong way with his politely annoying manner as he tries to unravel a new murder or two each week (the season is 13 episodes long). As in CSI, the stories are ensemble-based, with multiple cases being investigated by a large cast of coroners and police, who often spend time quibbling among themselves or interoffice dating. Da Vinci's own estranged wife is a doctor in the department, which adds some emotional tension. Among the familiar faces are Ian Tracey (Intelligence, one memorable episode of The X-Files) and Donnelly Rhodes (Dr. Cottle on Battlestar Galactica) as a young cop/old cop team. If this season is representative, the show doesn't bother with the anatomy-cam and gross-out dissections of the American CSI franchise. The structure of most of the episodes—in which murders are frequently unsolved and plot lines unresolved—can be frustrating after a while. Just around the 40-minute mark, when you know that story is wrapping up, you find yourself thinking that there are way too many loose ends that can't be tied up in time, and sure enough, they aren't. Extras include production footages and a profile of Christ Haddock, who created the show.
Click Here to Talk About Movies at Metro's New Blog
Send a letter to the editor about this story.