06.25.08
home | metro silicon valley index | movies | current reviews | dvd review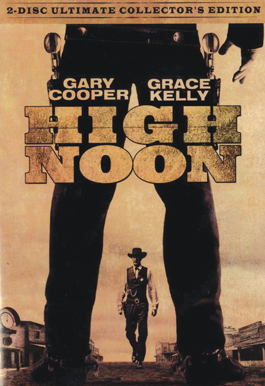 High Noon
Ultimate Collector's Edition; two discs; Lionsgate; $19.98
By Michael S. Gant
The clock is ticking. Ramrod-righteous Marshal Will Kane (Gary Cooper) of the old West, faced with the choice of domestic bliss with his beautiful young Quaker bride (Grace Kelly in her first feature) or near-certain death at the hands of a vengeance-hungry gunman and his minions, does what a man's gotta do. The 1952 classic Western, directed by Fred Zinnemann and produced by Stanley Kramer, is one of those films that serves as a tabula rasa for social metaphors (like Fatal Attraction). Cooper's marshal appeals to the better natures of his friends, deputies and townspeople only to expose their most cowardly impulses. Without allies, Kane must uphold law and order alone. That image certainly appeals to conservatives then (it's the United States alone vs. communism) and now (it's the United States alone vs. terrorists, with a gutless United Nations). But as seen in one of several extras in this collector's edition, any president, for instance interviewee Bill Clinton, appreciates the notion that a great leader is always essentially alone. More interestingly, High Noon was made at the height of the McCarthy era, and some observers saw Marshal Kane as a Hollywood victim of red-baiting and blacklisting. Indeed, screenwriter Carl Foreman was hauled before HUAC, and Cooper, quite courageously, defended him. As a film, and not a metaphor, High Noon benefits from the high-contrast photography by Floyd Crosby; the relentless score by Dimitri Tiomkin, a surprising role for Katy Jurado as the Mexican woman who loves Kane and seems to be bankrolling most of the town's businesses, and a rogue's gallery of supporting players: Lon Chaney Jr., Lloyd Bridges, Otto Kruger, Lee Van Cleef and Jack Elam. In 1968, Elam turned up in Sergio Leone's Once Upon a Time in the West, whose opening scene with outlaws waiting for a train must have been influenced by the similar dynamic in High Noon. This set includes an unusually rich set of fascinating interviews.
Click Here to Talk About Movies at Metro's New Blog
Send a letter to the editor about this story.