06.25.08
home | metro silicon valley index | columns | girl's gotta eat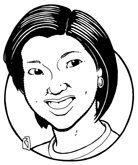 Girl's Gotta Eat
Playing the Markets
By Carolyn Jung
STRAWBERRIES the hue of a sexy Chanel lipstick. Juicy peaches so sensuously plump. Bright yellow ears of corn just waiting for their husks to be ripped off with abandon. It's easy to be seduced by fresh fruits and vegetables at the farmers markets these sultry summer days. But in this case, it's OK to play the field, too. So go ahead: Flirt with some of the other offerings that aren't fresh produce. There's a world of goodies out there to begin an exciting new relationship with. Sure, you can find some of these mouthwatering items at specialty stores or bakeries. But farmers markets let you sample before you commit. Heck, that's better than a first date.
Here are my picks, in no particular order, for favorite non-fresh-produce offerings at local farmers markets (www.cafarmersmarkets.com). Part 1 appears today; part 2 July 9.
La Marea of the Sea First thing in the morning might seem a wee bit early to slurp a raw oyster doused with hot sauce. But walk by this booth and you'll be hard pressed not to stop when you see people downing them as fast as the shucker can pop these beauties open. Oysters and clams on the half-shell fresh from Tomales Bay are $1.50 each. For hearty appetites, there's a hefty seafood tostada for $5. There's no real sign, but you can't miss the booth at the Sunnyvale market on Saturday (9am–1pm), and Mountain View on Sunday (9am–1pm).
Fabrique Delicies Jean-Baptiste Su is a foodie-cum-journalist like me. He may be the U.S. bureau chief of the French News Agency, but he also sells some of the best charcuterie around, made by a Hayward company. Swoon over duck proscuitto, truffle mousse, duck confit and rendered duck fat (for cooking decadent potatoes at home). What I love are the sausages. Sold frozen, they make the perfect harried weeknight dinner alongside crusty bread, and a simple salad. Try the duck sausage with figs, and the pheasant sausage with cranberries. Très magnifique! Find Su at the Palo Alto Saturday downtown farmers market. Other Fabrique Delicies booths also are at the Sunday markets in Los Gatos (8am–1:30pm), Mountain View and the Palo Alto California Avenue one (9am–1pm). For information, go to www.fabriquedelices.com/index.htm.
Cowgirl Creamery  Sue Conley and Peggy Smith have been making artisan cheese in Point Reyes Station since 1997. While their products can be found at cheese shops and gourmet markets, Cowgirl Creamery also started selling at the Palo Alto Saturday downtown market (8am–noon) a few weeks ago. The stand offers a small selection of cheeses. But what I fell for was the clabbered cottage cheese. It's made of Straus organic nonfat milk and topped with clabbered (thickened) cream ($4.25 for an 8-ounce container). Unlike run-of-the-mill cottage cheeses, this one is incredibly fresh and creamy, even luxurious. I scraped every last spoonful out of the container, and wished there was more. When's the last time you felt that way about cottage cheese? Me, neither. Find out more at www.cowgirlcreamery.com.
Oaxacan Foods  This stand is reason enough to come hungry to a farmers market. Chef Ron Kent, who has worked at such San Francisco landmarks as Ernie's, Cypress Club and Cocolat, owns Oaxacan Foods with his wife, Zaida Kent. Together, they turn out everything from quesadillas to roasted butternut squash tamales to Oaxacan mole negro you can tote home to add pizzazz to chicken, pork or even nachos. I'm partial to the memela—flattened corn masa crisped on a griddle, then heaped with black beans, mole negro, queso fresco, cabbage, guacamole and salsa ($4.25). Look for the stand on Saturdays at the downtown Palo Alto and Sunnyvale markets; Sundays at the Los Gatos, Campbell (9am–1pm) and California Avenue Palo Alto markets; and Thursdays at the Los Altos market (4–8pm). Go to www.oaxacanfoods.com.
R & J Toffees  This is sweet stuff with heart. Joel Sakakihara, a part-time De Anza College professor, and his brother, Ryan, an East Bay software engineer, make buttery, crunchy, almond toffee enrobed in lovely dark chocolate. Their grandfather, who was a cook for the highly decorated Japanese-American 442nd U.S. Regimental Combat Team in World War II, used to make hundreds of pounds of the confection to donate to his church. He was never able to indulge in any, himself, though, because he was diabetic. The brothers carry on the family tradition, making the candy by hand. A 3-ounce bag is $5.95. Find it at the Sunday Santana Row market in San Jose (10am–3pm), and the Los Altos Thursday market. For more information, go to www.rjtoffees.com.
Carolyn Jung is a Santa Clara–based food and wine writer who blogs at [ http://www.foodgal.com/ ]www.foodgal.com.
Send a letter to the editor about this story.