06.25.08
home | metro silicon valley index | music & nightlife | band review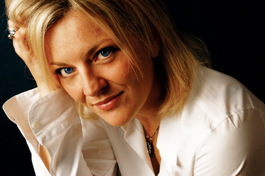 Photograph by John  Haxby JAZZ ON THE PLAZZ: Claire Martin mixes up her repertoire with songs by Nick Drake, Stevie Wonder and Radiohead.
Hip Cats
Claire Martin kicks off the star-studded season of Jazz on the Plazz in Los Gatos
By Andrew Gilbert
FROM the San Jose Jazz Festival to the Stanford Jazz Workshop, summer is the best of all seasons when it comes to jazz in the South Bay.
And now a new kid on the block is adding to the region's already rich musical offerings. Los Gatos' Jazz on the Plazz is quickly gaining national recognition as a confident and well-conceived concert series featuring an alluring array of revered veterans, midcareer masters and rising stars.
The free event, which runs every Wednesday evening on the Town Plaza through Aug. 27, opens tonight with the stylish English jazz singer Claire Martin. Among the highlights of the 10-concert series are legendary pianist, singer and composer Mose Allison (July 9), who's still in wickedly good form at 80, 25-year-old Russian-born, Israeli-raised, Toronto-based vocalist Sophie Milman (July 23), Puerto Rican Latin jazz flute virtuoso Nestor Torres (Aug. 20) and soul jazz tenor sax great Houston Person, who closes the series. 
"We're real jazz fans and try to be true to that," says Teri Hope, who organizes Jazz on the Plazz with Michael Jacobi. "And the music works great for the plaza. We've been getting around 2,500 people. If we add blues we'll get 4,000 people, which is more than the space can handle. We're trying to keep it intimate and elegant and not outgrow our welcome."
Free music in an inviting public space on a warm summer night is an irresistible combination, and Hope and Jacobi seek to make the most of the forum. While they stick to mainstream offerings, it's highly unusual for a community concert series to focus on quality to the exclusion of populist fair.
"I'm dedicated to the genre and exposing people to it," says Jacobi, who hosts the Saturday afternoon show Raising the Standards on KRML-AM (1410). "In terms of quality, it's as good as anywhere you're going to find in the world. Take Claire Martin, our first concert. I saw her at the Algonquin last year, and I've played her on my show, and she's going to really surprise people. I have a sixth sense for musicians who are on their way up."
While tonight's show marks Martin's Northern California debut, on the other side of the Atlantic her star has already risen. The 40-year-old vocalist is one of the most respected singers on the European scene, regularly selling out top clubs like Ronnie Scott's in London. Possessing a light, fine-grained voice that's warm and inviting in every register, Martin swings with efficiency and aplomb. Her latest album, He Never Mentioned Love, on her long-time label Linn Records, is a deeply felt tribute to Shirley Horn that covers a wide swath of her extensive repertoire.
"She was my favorite, absolutely my favorite," says Martin, who's accompanied tonight by a quartet led by the fine Los Gatos saxophonist Don Olivet. "She really was quite fresh with her material, maybe to her detriment. She was too hip."
Like Horn, Martin is the kind of jazz singer who puts her own stamp on a song through understatement rather than vocal flights that use the melody as a launching pad. She also shares Horn's gift for finding interesting material.
While her repertoire features a generous helping of Gershwin, Porter, Berlin and Arlen, Martin also explores songs by Phoebe Snow, Nick Drake, Stevie Wonder, Kate Bush and Radiohead. Her openness has led to interesting gigs, like her July date with the Royal Liverpool Philharmonic Orchestra on a program billed as "The John Lennon Songbook."
"I've always done the songs I wanted to do," Martin says. "People have criticized my choices, saying, 'She could have been so much more if she had stuck with this or that.' But I don't think I've ever sold out. I've tried to make them sound like they belong in this genre. My mother says I should have just done the Cole Porter stuff, but these are the artists I listen to."
With her lovely voice and impeccable taste, Martin is starting to make inroads on the U.S. scene. Last year she debuted at the storied Oak Room in the Algonquin Hotel, a two-week run that attracted a glittering roster of song aficionados like Tony Bennett. She'll be back at the Oak Room this year, and it's a safe bet that she'll be back in the Bay Area before long, though probably at Yoshi's or for an SFJAZZ production. But you can hear her first on the Town Plaza in Los Gatos, where hip cats can be found on Wednesday nights.
CLAIRE MARTIN performs at 5pm at the Los Gatos Town Plaza. Admission is free. Visit www.jazzontheplazz.com for more info.
Send a letter to the editor about this story.