06.25.08
home | metro silicon valley index | the arts | stage | review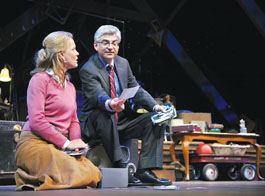 Photograph by David Allen
LOOKING BACKWARD: Sue (Beth DeVries) and Dan (Ray Wills) relive their glory days in 'Snapshots.'
The Past Resung
In TheatreWorks' 'Snapshots,' a couple sings about the present and the past
By Marianne Messina
COBBLING TOGETHER songs from Stephen Schwartz musicals like Pippin, Wicked, The Magic Show and Godspell, David Stern developed the concept (with Michael Scheman) and wrote the book for TheatreWorks' latest musical, Snapshots, subtitled A Musical Scrapbook. In the Stern story, a mature couple, once childhood sweethearts, face their empty nest and layers of unprocessed estrangement. The couple is disappointingly generic, the story painfully overly familiar—graduation, graduation, moving in together, baby birth, graduation. Schwartz should throttle Stern and company for mounting his fond masterpieces in such an unimaginative frame. Maybe South Pacific's field day at the 2008 Tony awards has saved Stern's neck by signaling this is the year for cannibalizing one's glory days. That said, the show contains wonderful music, and TheatreWorks applies its usual skill to give Schwartz his due.
Bright photoflashes dart out over still-posed actors to create the snapshots—"frozen illusions" Dan nicely calls them in the title song (written for this show). The final snapshot images are silhouettes in the windowpanes. With six actors playing Dan and Sue at three different ages, the play starts in the present as Dan (Ray Wills) comes home to find Sue (Beth DeVries) in the attic (we know she has just written her goodbye note). Under dark, A-frame rafters, set designer Joe Ragey makes an atticful of clutter fun and funky. Soon we meet the youngest versions of the couple, high-school-age Danny (Brian Crum) and Susie (Courtney Stokes), and then the young professionals, Daniel (Michael Marcotte) and Susan (Molly Bell). Costume designer Fumiko Bielefeldt dresses older and younger versions of each character in similar colored shirts, emphasizing a point made in the story—the young person lives in the older.
The musical's strongest moments come when the young characters interact with the older. Dan watches younger Daniel hide his feelings from Susan and asks, "How long are you two going to play this game?" Daniel responds, "You tell me." At the end of the story, the younger selves plead with Dan and Sue to do it differently this time. Put to song in this way, the six-part interactions make exciting music and a poignant climax. Clever staging creates one of the funniest numbers when Susan and Daniel, the young professionals, go their separate dating ways. Alternating verses, each pops up from behind a blanket with his or her respective lovers—she with the man who doesn't requite her love; and he with every Tawny, Dixie and Harriet, all played by quick-change artist Stokes in different wig, accent or attitude. Most humorously, Crum makes a sexy cheerleader in tight-fitting white jersey as "she" sprawls Daniel backward over a packing box, straddles him and rattles him with her pompoms.
The production does Schwartz's music proud with clean professionalism and fine singing, starting with DeVries' enticing voice as Sue. And the musical arrangement (William Liberatore, conducting) provides a striking pairing of piano and guitar at the beginning and end of the show. Like Sue and Dan, the two distinct voices blend in one song. Yes the show has sweet, snifflous moments that strike a chord, but they're a long time in the making.
SNAPSHOTS, a TheatreWorks production, plays Tuesday–Wednesday at 7:30pm, Thursday–Friday at 8pm, Saturday at 2 and 8pm and Sunday at 2 and 7pm through July 13 at the Center for the Performing Arts, 500 Castro St., Mountain View. Tickets are $26–$64. (650.903.6000)
Send a letter to the editor about this story.