June 27-July 3, 2007
home | metro silicon valley index | columns | silicon alleys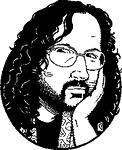 Silicon Alleys
A Walk Through Lost San Jose
By Gary Singh
THIS TIME my inspiration came from a splendid book by Leonard Pitt called Walks Through Lost Paris: A Journey Into the Heart of Historic Paris. The glossy volume is chock-full of a few hundred before-and-after photos of specific Paris buildings and streets that have been destroyed and rebuilt over the last 150 years or so.
The book opens with a quote from Daniel Halévy's 1931 book, Parisian Landscapes, and it's a citation that I can regurgitate lock, stock and barrel and apply to San Jose: "How strange it is, this city of ours. We must walk its streets with the soul of an archaeologist, like an inhabitant of Pompeii walking among the ruins wondering if he is not being tossed about in a dream."
After reading that, I just had to take charge and initiate my own lost walk through some San Jose underbelly. Over on Gish Road, near the airport, I sauntered northeast toward Fourth Street, right past a delightfully run-down faded blue office complex that couldn't have been newer than 1970 or so. The directories designating the various tenants were made of those plastic push-in letters you see on concession-stand menus and half of them were missing, or spelled wrong or crossed over. The tenants included Punjab Travel, Lite Travel and the Silicon Valley Bowling Society.
Down the block a wee bit, I found a seemingly desolated business called Boss Auto. A thoroughly rusted length of barbed wire enclosed the parking lot and a plastic bag filled with telephone books sat on the sidewalk right in front of the door. A few used taxi cabs sat behind the place.
Across the street, in a faded pink and mauve structure—the ugliest color scheme one can imagine painting a building with—sits a place called Quick Learning School of San Jose. Intrigued with what on earth that could possibly be, I slipped inside to find out it was some sort of real estate training school. But most importantly, the long hallway through the building puts one right out in back of Fourth Street Bowl—one of the last bastions of Leave It to Beaver–style architecture. There I inspected a run-down semi trailer covered in graffiti and a few amazing dumpsters filled with old chairs, stools, broken fixtures, scrap metal and junk from the bowling alley. A few bored wasps hovered in the air above the dumpster.
One option from there is to continue southward down Fourth Street and hang a right on Rosemary to check out a fenced-off lot containing the boarded-up building that used to be the Scientology Church. Next door sits another fenced-off unit, which used to be a Chinese Restaurant called Empire Buffet. It looks like it hasn't been occupied in a decade. That entire part of the block is a masterpiece of urban decay worthy of any photo essay.
All one has to do at that juncture is continue to weave and bob one's way south underneath the freeway to Commercial Street. This is also close to where Fifth Street ends at the freeway, veers right and curls into Seventh Street going south. Only in San Jose would one see Fifth Street becoming Seventh Street.
Lastly, if I had to recommend this entire stroll and place it in a literary masterpiece like Walks Through Lost Paris, I would absolutely finish this journey a few steps further south from Fourth and Commercial at a spectacular dive bar called the Hyde Park Lounge. On the front door, the sign says this: "No one under 21 allowed. No bicycles." Nowhere else in town would you find a bar with that sign on the door. Hallelujah and I thank Mr. Leonard Pitt for his inspiration.
Contact Gary Singh or send a letter to the editor about this story.