June 27-July 3, 2007
home | metro silicon valley index | silicon valley restaurants | review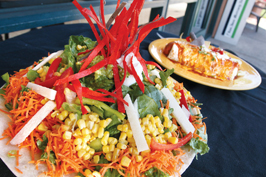 Photograph by Felipe Buitrago
Can't be beet: Havasu salad at Rio Adobe.
Coop de Grâce
Two Latino lunch spots give Cupertino an alternative to franchise overkill
By Todd Inoue
AFTER switching job locations nine months ago—from downtown San Jose to Cupertino—I've become obsessed with the city ignominiously known by some as Gateway to Sunnyvale. Cupertino, a.k.a. the Coop, is a sprawling city without a central meeting place populated by a large Chinese community and Apple. Newly minted execs snap up 60-year-old homes, as is, for a mil without blinking. The junior college is famous for its flea market and infamous for its baseball team. Parents are dying to get their kids into the coveted Cupertino school system, while the kids can't wait to blow this taco stand. If there was a taco stand.
Ever find a taqueria in Cupertino? I tried. Google tried. We failed miserably.
Cupertino feels like a city between generational identities, and nowhere is that more prevalent than with its restaurant scene. There are signs of progress with Japanese fusion tapas Gochi, the stab 'em and slab 'em Alexander's Steakhouse and the reliable old guard like Loon Wah. That's all good, but the stretch of De Anza Boulevard that is the city's Main Street resembles a desolate roadway between towns where the franchises dominate the landscape.
To illustrate the point, the good ol' Peppermill with its kooky space coaster bar and cocktail waitresses in glittery, control-top panty hose was cut down by the sterile jock bar BJ's Brewhouse. Did Cupertino City Council cut a deal with some highest bidders to populate Stevens Creek and De Anza Boulevard with corporate troughs? TGI Friday's, Panda Express, Todai, Pho Hoa, Chipotle, Baja Fresh, Chili's, Togo's, Armadillo Willy's, Panera, Pick-Up Stix (with all the Chinese spots in Cupertino, this place deserved to bomb and bomb it did), Noah's Bagels and Whole Foods are all here. Don't even get me started on Whole Foods. Their Cobb salad, on multiple visits, omits blue cheese and bacon. They've been sketchy with me since.
What bothers me most is that Cupertino has no mom-and-pop taquerias. Back in downtown San Jose, I had specific jump-offs for tortas, cocido de res, tacos and grilled chicken. Going from eating like a local to moving to the West Coast equivalent of Provo, Utah, has been a hard transition. I could chalk it up to demographics, but I hardly believe that a taqueria could not sustain itself, especially with a famished, built-in tech sector.
So I've been on a mission for a decent Latin lunch, defined as nothing fancy, $7–$10, where avocado is scooped out from its skin, not squirted from a caulking gun. Fortunately, I found two favorites that I could put up against any of my old neighborhood haunts. Rio Adobe restored my faith in Cupertino. It's a clean shop with terra-cotta floors tucked away in a minimall. They serve fresh, savory Southwestern-style dishes served on pretty plates. Blue corn enchiladas, eight fresh salsas, tortilla soup flush with chicken meat and avocado, and mariscos tacos with fresh shrimp that snap. Rio Adobe takes the best elements of a taqueria and bistro and combines them. You order at the counter, they take your name, hand you a cobalt blue cup and bring your lunch to you. The kitchen is stocked with humming food processors and knife-wielding line cooks, a chef chopping cilantro and a huge stove with simmering broths, sauces and soups. Even a bowl of tortilla soup—with chunks of chicken, healing broth, a slice of avocado and blue corn tortilla strips—offers a pleasant, multilayered contrast of color and textures. I eat here a couple times a week without complaint.
The second discovery is buried on the other side of Highway 85 on Foothill near McClelland. Canela Espresso and Pastries—a Peruvian cafe next to a liquor store and hair salon—had me from the parking lot. The two-lane blacktop that Canela sits on leads to the Stevens Creek Quarry, which results in a lot of trucks pulling into the minimall to get some lunch. I've seen a lot of satisfied guys in dusted-up coveralls eating under the shade of the solitary palm. Inside, the mother-daughter operation specializes in empanadas—the humble Latin American turnover filled with seasoned meats and vegetables. An empanada (chicken cilantro, Thai chicken, Italian primavera, spinach ricotta, chicken and mushroom, all $4.50 each) is pulled from the display, stuck underneath a grill press to give it a warm wake-up, served with a side of yellow zing sauce and the choice of a green salad or potato salad. Canela's empanadas are amazing, two-handed beauties. Go in bulk: snack on one now, nibble one later and toss the other in the fridge for Conan.
Canela's empanadas are becoming known as Whole Foods began stocking them. I begrudgingly give them credit for supporting Canela, but I won't step back in. Not until they fix their damn Cobb salad.
---
Rio Adobe
Address: 10525 S. De Anza Blvd., Cupertino.
Phone: 408.873.1600.
Hours: 11am–10pm Mon–Sat and 11am–9pm Sun.
Cuisine: Mexican.
Price Range: $2.25–$8.95
---
Canela Espresso and Pastries
Address: 10631 S. Foothill Blvd., Cupertino.
Phone: 408.255.2833.
Hours: 6am–5pm Mon–Fri, 7am–5pm Sat and 7am–1pm Sun.
Cuisine: Peruvian.
Price Range: $4.50.
Send a letter to the editor about this story.