June 27-July 3, 2007
home | metro silicon valley index | the arts | stage | review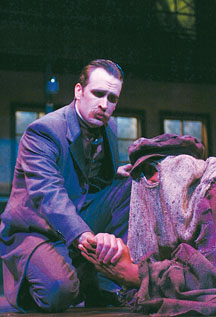 Photograph by David Allen
A helping hand: Dr. Frederick Treves (Jason Kuykendall) wants to rescue John Merrick (Aldo Billingslea) in 'The Elephant Man.'
Visceral Reaction
TheatreWorks' 'Elephant Man' examines our reactions to otherness
By Marianne Messina
ACTOR Brian Cox (Deadwood, Troy) recently told Fresh Air host Terry Gross that he gets "kind of spooked" watching himself onscreen, thinking, "God, this guy's so ugly. It's the Elephant Man!" The real-life Elephant Man, 19th-century Joseph "John" Merrick, with his tuberous growths, crippled foot and hand and "cauliflower" head hired himself out to freak shows as a matter of survival. Whatever ideas about beauty and ugliness, nature and art, illusion and reality Bernard Pomerance rolls around in his 1979 play The Elephant Man, this piece is unparalleled in recognizing one thing: Our reaction to perceived ugliness is intensely visceral. The same reaction that drives us to slash, poison, paralyze, invade and burn ourselves by way of plastic surgeons helps create and demonize "the other," and by extension, as TheatreWorks' gentle, thoughtful production calls to mind, it lives in atrocities like slavery.
In the opening scene, the comely and muscular black actor Aldo Billingslea stands center stage in a loin cloth before a slide screen that shows historic photographs of the real Merrick. As the also historical Dr. Frederick Treves (Jason Kuykendall) describes the Elephant Man's congenital deformities—his right hand, "a fin or a paddle rather than a hand"—Billingslea responds by hunching a shoulder, squinching his face, turning out his lips, crippling a leg. The transformation creates a slow, horrible sense of subtraction and a sense that it's the words that brutalize this perfect form.
Setting these early scenes on a wide-open stage, director Robert Kelly, with set designer Andrea Bechert, provides a way to dissipate some of the tension compounded by the cruelties Merrick suffers before Dr. Treves takes him in. Structurally, The Elephant Man is a warm human story peppered with thought bubbles. In a choruslike scene, Pomerance introduces one of his many concepts, that recognition of beauty depends on the ability to see our imagined selves in someone else. "He's almost like me," each character thinks out loud. The witty, famous actress Mrs. Kendall (Rebecca Dines is quite lovely in the role) finds that "he is discreet like me." Mrs. Kendall, the first lady to befriend Merrick, admits to him that "too little trust has maimed my life."
The play cites deformity in unexpected places. In a later scene (a reversal of Merrick's exhibition before the doctors), Merrick introduces Dr. Treves: "The mouth deformed by satisfaction and incapable of self-critical speech, thus the ability to change." Kuykendall's well-meaning Treves is slightly inaccessible, even to himself, which may be why when he breaks, he can't access his own meaning. The play is sad and beautiful down to the wistful piano interludes between scenes. And Kelley takes artistic advantage of this emotion not only by giving it space but also by dropping images in tableaux or still-life into spaces and pauses.
The wide stage area is framed in windows, upper and lower, and in one eerie tableau, people peer through the windows on Merrick's empty room, bereft spectators without spectacle. In another poignant tableau, the beam of a narrow spotlight shines on the intricate model cathedral Merrick crafted with his one good hand, turning it into a kind of beacon. After all Pomerance's theoretical noise, this production seems to settle on a simple formula by giving the visceral tension around ugliness a little space, patience and a shift of attention to the tug of inner beauty. The show ends with a final image of the well-dressed Merrick standing tall on the balcony above Treves, echoing a line from the historic Treves' diary: "The spirit of Merrick, if it could be seen in the form of the living, would assume the figure of an upstanding and heroic man."
The Elephant Man, a TheatreWorks production, plays Tuesday–Wednesday at 7:30pm (no July 4 show), Thursday–Friday at 8pm, Saturday at 2 and 8pm (no 8pm show July 14) and Sunday at 2 and 7pm (no 7pm show July 15) through July 15 at the Center for the Performing Arts, 500 Castro St., Mountain View. Tickets are $20–$55. (650.903.6000)
Send a letter to the editor about this story.