June 27-July 3, 2007
home | metro silicon valley index | music & nightlife | preview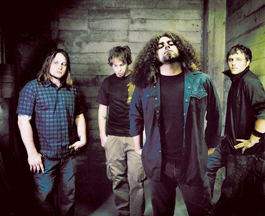 Wired and Warped: Coheed and Cambria join the 50 other bands on this year's Warped Tour.
On the Grass
This week, summer festivals sprout like weeds
By Mike Connor
NOTHING SCREAMS "Summer!" like the Circle Jerks drenched in sun cream, which is simply an unsavory way of saying that summer is here, and with it comes a slew of stellar lineups in search of an audience.
This week alone, the Vans Warped Tour, Channel 104.9's Day on the Meadow, KFOX's Khincert and Cyndi Lauper's True Colors Tour are all hitting the Bay area. To help you figure out which audience you might enjoy being a member of, take our quiz, or just check out the concert previews that follow it.
1. Did you like the last episode of 'The Sopranos'?
The correct answer here is "Yes," and if you got it right, we both know it's because you're a sucker for Journey's "Don't Stop Believing," which played during the series' final moments. It was one of the most anticipated finales in television history, so it's reasonable to assume that Tony's fantastic musical selection reminded many that Journey existed, and possibly boosted the careers of bands like Evolution, the Bay Area Journey tribute act performing at Greg Kihn's annual show. SKIP TO KIHNCERT.
2. Do you know what Circle Jerks are?
If you even thought about answering "Yes" to this question for any reason, SKIP TO WARPED TOUR.
3. Did you love Stephen Spielberg's masterpiece, 'The Goonies'?
Of course you freaking did, and that's why you should SKIP TO TRUE COLORS TOUR, for nostalgia's sake and for other salacious reasons, which I'll tell you once you SKIP TO TRUE COLORS TOUR. Please don't make me say it again.
4. Is there a little birdhouse in your soul?
If you answered "No," you are either lying or you're tragically uninformed, because everyone knows that every soul comes equipped with a little birdhouse inside. Well, maybe it's actually more of a cage, but just SKIP TO DAY ON THE MEADOW already.
True Colors Tour
Cyndi Lauper's True Colors tour is, as previously mentioned, a huge nostalgia affair, featuring Erasure ("Chains of Love") and Debbie Harry ("Heart of Glass"), but also the Dresden Dolls, the Gossip, the Misshapes and comedian Margaret Cho. It's also about embracing your and/or others' gayness, riding on Lauper's official statement that "We should all have the right to live with the same dignity, opportunity & safety. It shouldn't matter what anyone's sexual orientation is." True enough, so we won't bother to point out the sexual orientation of the thunder-stealing act on this tour, the Gossip. They're a three-piece dance-punk band from Arkansas fronted by larger-than-life frontwoman Beth Ditto, a belting, sweating, mascara-smeared diva with more onstage charisma than Marilyn Manson, and more politically outspoken to boot; Ditto wrote "Standing in the Way of Control" in response to Bush's pitifully misguided attack on gay marriage.
Friday, 7pm, at Greek Theatre; UC-Berkeley. Tickets are $40–$125. (408.998.TIXS)
Warped Tour
Where to start? As usual, the Vans Warped Tour targets its audience with shotgunlike precision, packing the tour with enough bands (over 50!) to satisfy all the skaters and skater wannabes, or pretty much any fan of contemporary punk and hard rock. Headliners include Bad Religion, Pennywise, Coheed and Cambria, the Used, the Vandals, Tiger Army and of course the Circle Jerks, who are only playing three shows (in California) on the tour. Along with the dudes in Bad Religion, Pennywise and the Vandals, the Circle jerks are also old enough to be most of these other bands' dads. The future of their figurative progeny is dubious—populated with some cookie-cutter emo and screamo acts from Alesana to Yellowcard, this year's tour certainly has its fair share of duds.
One only needs to tool around MySpace for a while to find that, for example, Scary Kids Scaring Kids' "My Darkest Hour" sucks from the opening synthesizer riff, and continues to sniffle and whine its way through cliché after emo cliché. And it's just strange how much bands like Yellowcard borrow from whiny punkers like NOFX—the adenoidal vocal style, the galloping drums and wagging bass lines, the squealing, staccato guitar riffs—but completely abandon the self-deprecating humor at the heart of it all.
OK, OK, so Cute is What We Aim For remembered to bring the funny and clever, but they also stepped in the cheesy and forgot the irony. Not to worry though—Family Force 5 has that irony all wrapped up. They're a a Christian dancecore band with melodramatic vocals sounding like Freddy Mercury (if he were into screamo) melded with industrial rock that sounds like Justin Timberlake's hardcore take on Nine Inch Nails. Huh?
But in the middle of all the emotional confusion, a band called Revolution Mother rocks with Sabbath-like simplicity; the Unseen revives the urgent punk rock anthem; the Briefs bring back the party-rocking punk of the Damned and the Jam. And for the prog-inclined, Coheed and Cambria rock with complexity multiplied by the square root of pi.
On a sunnier note, Buck-O-Nine and Pepper mix punk with ska and reggae, reminding us that formulas pioneered by the Mighty Mighty Bosstones and Sublime still work. And so does the all-day, multistage, jillion-band format, as long as you remember to hydrate.
Sunday, noon, at Shoreline Amphitheatre; 1 Amphitheatre Pkwy., Mountain View. Tickets are $29.99. (408.998.TIXS)
Kihncert
This year's Kihncert is a crowd-pleaser—while you may only recognize the Greg Kihn Band ("Jeopardy") and Foghat ("Slow Ride"), but you'll also at least recognize the bands to which the other three acts pay tribute. Aja Vu does a mean Steely Dan, Wild Child reopens the Doors (gratuitous Jim Morrison histrionics included), and Evolution rocks the Camaro-fueled drama of Steve Perry (and whoever else was in Journey).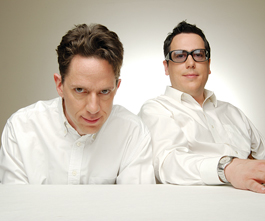 They Might Be Giants: And well-dressed ones, at that. Catch them at this year's Day on the Meadow concert.
The Greg Kihn Band, Foghat, Aja Vu (Steely Dan tribute), Wild Child (Doors tribute), Evolution (Journey tribute), Sunday, noon, at Discovery Meadow, Guadalupe River Park and Gardens, San Carlos Street and Woz Way, San Jose. Tickets are $9.85–$15. (408.294.2100, ext. 444)
Day on the Meadow
Back in the day when geeks and dorks were just geeks and dorks, they found consolation in the witty, sophisticated yet ultimately nerdy songs of They Might Be Giants, who headline this year's Day on the Meadow. In a land of prefab dance groups and moldy rock bands, TMBG have made a career out of being smart and funny musicians who have the talent to do things like turn on any radio station and jam on whatever song happens to be playing—a throwaway gimmik, yes, but one that most bands couldn't hope to cop. Fountains of Wayne, whose ode to the reign of the MILF, "Stacy's Mom," co-headline, with support from Kung Fu Vampire, Madina Lake and DJ Scotty Boy.
Tuesday, 3pm, at Discovery Meadow, Guadalupe River Park and Gardens, San Carlos Street and Woz Way, San Jose. Tickets are $10.49. (408.998.TIXS)
Send a letter to the editor about this story.