June 27-July 3, 2007
home | metro silicon valley index | columns | technology news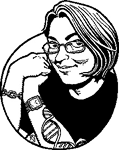 Technology News
The Future of Paper
By Annalee Newitz
TWENTY YEARS from now, paper will no longer be a tool for mass communication. Instead it will be a substance akin to plastic, a mere fabricated building material with industrial and consumer applications. At least, those were the thoughts that ran through my mind when I received a strange press release last week from a Finnish company called VTT, which trumpeted a business model that included developing new products based on what they called "printing technology" and "paper products."
VTT has developed a prototype for bioactive paper that responds to enzymes or biomolecules by changing color. One idea is to use it in food packaging or air filters to get early warning about toxins.
Weird innovations are great, but the most interesting part of this press release was about markets. "The goal is to ... to create new business for the paper industry ... to introduce new innovations and market initiatives between the traditional ICT [information communication technology] and paper industries by combining IT, electronics and printing technologies."
Let us parse the high-flown language of commerce. VTT is saying that the paper industry needs new markets and high-tech, bioactive paper will help create them. But why? Obviously, paper has its uses—there are newspapers, magazines, notepads and books to be printed! Why worry about making the stuff bioactive when you can just sell it to Random House or Condé Nast?
You already know the answer. Print communication is dying out, and with it goes the paper industry. Over the past few months, I've witnessed the two biggest daily papers in my hometown, the San Francisco Chronicle and the San Jose Mercury News, announce budget cuts that will slash their staffs by one-quarter. What does that mean to the paper industry? Fewer orders for newsprint.
When Karl Marx wrote that every great historical event occurs twice, the first time as tragedy and the second time as farce, I doubt he had print media in mind. And yet the upset of the paper industry feels to me like the joke that comes after the tragedy of print media's fast decline. Don't get me wrong: I'm not one of those people who thinks that barbarians are storming the gates because anyone can publish their ramblings on MySpace instead of having to get David Remnick's permission to publish their ramblings in The New Yorker. Still, I cannot help but feel wrenchingly bad when I think about what it will be like in the Mercury newsroom after a quarter of the editorial staff has left the building. I won't miss the paper, but I will miss the journalists.
What's tragic is that print journalism, unlike the paper industry, has not tried to diversify its market as methodically as the paper industry has. Right now, VTT is just one of many companies trying to figure out cool new ways to use paper. But who is trying to figure out cool new ways to employ smart, highly trained print journalists? Maybe Dan Gillmor and a few other people running small nonprofits. Mostly, print journalists are having to figure the future out on their own.
Some will do what I've done, gradually moving from print media into the online world. I've gone from working at a print zine to an online zine to a weekly newspaper to print magazines to running a blog. This column that you're reading is syndicated to both print newspapers and websites. Nobody gave me guidance. No slick marketing dude from Finland came in and said, "Hey, maybe you should diversify and start creating bioactive journalism."
Instead, I fumbled along on my own, trying to find the most stable place where I could settle down and write for a living. Other journalists won't be as lucky, or as willing to change. They may stop writing; they may become shills for the companies they once investigated; they may feel bitter or liberated or panicked. None of them deserve it. Somebody should have helped them get ready for this transition five years ago.
I live in a world where corporations care more about the future of paper than the futures of people who have made their livings turning paper into a massive network of vital, important communications. This is not how technological change should work. You cannot discard a person in the way you discard a market niche. That's because people revolt. Especially journalists.
Annalee Newitz ([email protected]) is a surly media nerd who is looking for a few good geek journalists to help her run a blog. Serious nerd experience needed. Inquire within!
Send a letter to the editor about this story.