June 28-July 4, 2006
home | metro silicon valley index | columns | silicon alleys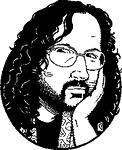 Silicon Alleys
Get in the Caravan
By Gary Singh
THE SIGN outside the bar says that the Caravan is open from 6am to 2am and that they sell six-packs to go. It also says "free live music on Thursdays and Fridays." I'm sitting there at 11:30am and owner George Rich is explaining how original owner Leo Chargin designed the inside of the bar in the early '60s. Rich doesn't hold court at nighttime, so I had to infiltrate the place in the morning to get the lowdown.
The Caravan should be a registered historic landmark, if it isn't already. You see, the place has been at its current location on the corner of San Fernando and Almaden since 1964. But here's the real story: Before that, the Caravan used to be housed inside the Greyhound Station down the street. It was part of a chain of bars named Caravan that were located inside bus stations. Now that's something the History San Jose folks should drool over. No one under 40 even knows about this. When Greyhound kicked the bar out of the station, Mr. Chargin bought out a car dealership that used to be at San Fernando and Almaden and moved the bar to that location. No one knows how much he paid for it, but Rich tells me he made the previous owner an offer he couldn't refuse.
But more importantly—and let me digress—the Caravan, along with the Blank Club around the corner and Johnny V's on Santa Clara Street, is one of the last legitimate places left around here to see original rock music. At nighttime, those three establishments are some of the last bastions of alternative culture left in San Jose.
You see, people in this valley just don't care about original live bands any more. They'd rather just go to a British Pub, drink lemon drops and dance to some clowns playing Huey Lewis covers. That's what the majority wants.
But if you're into alternative music of any sort, you should support the clubs and venues that showcase up-and-coming talent and original music. Those of us who were around actually remember when Nirvana played the Cactus Club in 1990. Or when Alanis Morissette played there. Or when No Doubt played there. Nowadays, when the majority of people say "live music," they mean cover bands in mainstream bars. It is this mentality that has destroyed the music scene here. No wonder national touring acts don't want to come to San Jose anymore. They all go to San Francisco and Santa Cruz instead. Ugh.
So, as the noon hour passed at Caravan, I could tell that even the mellow daytime regulars understand this. They think it's a great thing that the place has free original music on Thursdays and Fridays. The place may look seedy from the outside—because it is—but you never know when you might see a band that later vaults to worldwide stardom.
The other problem is that the city of San Jose, in its forever backward-thinking fashion, does not want kids listening to music in the same building as adults drinking alcohol, so there will never, ever be another all-ages music club, like you would find in any other real city in the world. We just can't have that here. Another ugh.
I grieved about this over another cocktail at Caravan while Rich continued to school me about the history of the place. Later that night, bands rocked out at both Caravan and the Blank Club and those lucky enough to be over 21 enjoyed the sets. You should support these businesses not just because they have original live music, but also because they are independently owned establishments and not squeaky-clean chain hellholes subsidized by the city or the Redevelopment Agency. They are born-and-bred San Jose folks. Hypothetically speaking, I can't think of two establishments more deserving of subsidies: the Blank Club, which is the only major music venue left in this stinking town, or the Caravan, a historical dive bar if ever there was one. So forget the ridiculous classic rock cover bands and go see some original music for a change. The Blank Club, Johnny V's and the Caravan are waiting.
Contact Gary Singh or send a letter to the editor about this story.