June 28-July 4, 2006
home | metro silicon valley index | the arts | stage | review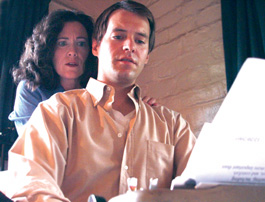 Scholars: Denise Balthrop-Cassidy and Clayton B. Hodges star in 'Deuce.'
Bio-Search
Two academics delve into the secrets of a professor's life in 'Deuce' at Pear Avenue
By Marianne Messina
THE TWISTS and discoveries in Deuce, a world-premiere play at Pear Avenue Theatre, are as convoluted as Michael Walsh's funky, box-cluttered set with the nibbled-off walls, which serves as the "writing shack" of the late professor Cameron Cowl. Cowl's son, Dustin (Clayton B. Hodges), is living there when women's studies historian Reddy Roberts (Denise Balthrop Cassidy) comes in to excavate the personal papers and write the biography of his recently deceased father. Reddy's research overdrive clashes instantly with Dustin's confused attachment to the biographical material. And as both Dustin and Reddy work to uncover the "true" facts of Cameron's life, each must suffer ruptures in their false perceptions of the real man. On the one hand, Cameron has managed to conduct quite a hidden life under everyone's nose, yet in his "shack," his most personal space, everything blurs.
Under Ann Kuchins' direction, Walsh has cleverly created a "shack" where all the parts of a man are untidy and indiscrete (pun intended), where there's a bed in the library and a work desk in the living space. The undercurrent beneath talk of truth, secrets and sexual relationships is this very visual dialogue between the disparate needs and desires of life and the pressure to compartmentalize and order them. "Stay out of the personal," says provost Eric Needleman, as if it's a place with a boundary. And later, about a scandal: "I was trying to contain it."
In another nice touch, Cameron's most private journals are contained in boxes disguised as old books. Looked at one way, these are his dirtiest secrets; looked at another way, these are where he is most vulnerable and fragile, in journals marked with the names of birds. When Dustin tells Needleman (Tom Ammon) about the private journals, Needleman instinctively goes into cover-up mode, trying to deflect Dustin's attention. "That short story you wrote was good," reminding Dustin of the writing career he longs for.
Ammon wears provost like he just stepped off the Stanford campus. His Needleman is someone you'd describe as mature, rock-steady, unflappable. He's the least-conflicted person, and the "low-key" way he bribes Reddy to give up on the biography shows how effortless (or habitual) the world of dual realities can be. When we finally see Needleman's anxiety, it's both understated and poignant. Yet he's the most duplicitous. And rooting for Needleman reveals the social agreement by which we keep professional from private, seemly from unseemly, intellectualized sex from the actual drives and practices.
Cassidy makes a sensational fit for the career-minded Reddy, obsessed with her book project, severe with her hair up, yet much softer with it down. She masterfully asserts some consistency on the odd twists and turns of her character's growth. The chemistry between her and Hodges is best and most fiery when they argue, though a bit stiff when they transition to more intimate places.
Still a bit loose around the edges, Deuce is nevertheless fascinating. It's one of those open-to-interpretation plays that tell you more about yourself than anything else. Depending on your moral expectations and possibly what myths you hold about academia, it might come across as anything from a mystery to a philosophical treatment to a soap opera. And judging from the talk back at a recent performance, a discussion after the play may definitely open your eyes about the person you're with.
Deuce, a Pear Avenue Theatre production plays Thursday-Saturday at 8pm and Sunday at 2pm through July 15 at the Pear, 1220 Pear Avenue, Unit K, Mountain View. Tickets are $10-$25. (650.254.1148)
Send a letter to the editor about this story.