June 28-July 4, 2006
home | metro silicon valley index | features | silicon valley | feature story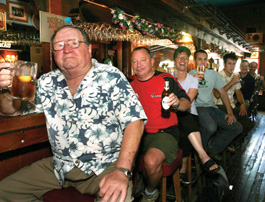 You Gotta Love Home-Field Advantage: Owner Hans Baumann (left) leads a raising of the glass for the German team at Teske's Germania.
Why We Watch
Bonding over the world's sport in Silicon Valley
By Arturo Villaseñor
2006 World Cup:
Cup memories | Pickup soccer games | Brazil's national team | Soccer fans in Silicon Valley
HERE WE are, 514 years after Columbus explored the New World, and in an ironic historical twist I'm driving around San Jose looking for Italians. It's easy enough finding Italian restaurants in this burg, but I'm looking specifically for where the "tifosi" will be gathering. Today is the opening match of the World Cup for Italy, and it's not as easy as it seems finding followers of the Azzurri in the landscape of the South Bay. I'm given a hopeful tip for a restaurant that will be showing the match but my arrival at the unnamed place is met with utter disappointment as this once prospective venue of calcio and perhaps a cold drink or more is over before it can begin. The joint is closed. I forget what Columbus was looking for, exactly, other than spices and converting the unholy, but even he had more luck on his first voyage of 1492 than I did on this particular day. Tomorrow I'm tracking down a Croatian place and if I'm having trouble finding Italians watching in San Jose ...
Being a soccer fan in this country can be a lonely business, if only because the public outlets that are in abundance in most of the world, especially during the World Cup, can be downright elusive in certain parts of the United States. During my youth and up into my 20s, the only place you could catch televised international soccer was mostly on the Spanish station, some choice PBS productions (both predominantly tape-delayed) and if you were lucky enough to know a pub or two where the satellite feeds came in for the best matches. I'm talking about the Bay Area here. God help those poor fútbol-mad souls in Wellpinit, Wash., or countless other regions, but, you know, better them than me.
So when I first traveled to Europe in the '80s, I knew that watching soccer would be an experience I'd not hesitate to devour, and relished the chance to visit the stadiums I'd always longed for—and also the neighborhood cafes, pubs and bars where watching a football match is woven into the social fabric of everyday life. Yes, I wanted to see great art at the Prado and climb the steps of Montmartre and admire the exquisite array of European beauties. But goddamn it, I also wanted to indulge every spasm of lust that I held for the only sport which I had grown to care for.
And so I look back fondly at the warm evening in Barcelona watching Barça play Dynamo Kiev at a tapas bar in the Plaça del Sol and sharing a plate of avocados stuffed with gambas and caviar, and the cool evening in north London on another trip watching England play Uruguay while admiring the cozy feel of the pub, the imperial pint in my hand and the beauty of the woman I married. It's not a fair comparison recalling those memories while I'm standing in the parking lot of a strip mall wondering why an Italian restaurant is closed at noon with the Italia-Ghana match approaching and the big flat-screen TV behind the bar emulating an Ad Reinhardt monochromatic painting: black and lifeless.
Not to be defeated, I make my way westward to a cozy little place on Campbell Avenue where I've previously enjoyed a fine pizza and can recall waiters speaking Italian and some well-positioned television monitors. La Pizzeria on Campbell Avenue is an immediate oasis and shows promise, as the game is on. A young man wearing his Azzurri jersey modestly under a sweater is spotted, and a table with an older gentleman in his AC Milan jersey circa 1995 rounds out the scene. While not a packed house, there are plenty of faces riveted to the screens, and little by little the vocalizations of this mixed crowd of football fans and innocent lunch-goers will certainly make themselves heard. Early comments in the crowd regarding the uncharacteristically short haircut of one of Italy's most recognized players, Francesco Totti, later give way to the collective anguish that comes with a heavy desire only a goal can alleviate.
It's during this period of the match that I begin chatting with Pino, the proprietor of La Pizzeria, and the person most engrossed in the match as far as I can tell. I ask him where he thinks all of the Italians in San Jose go to watch the match and he replies, "Probably at home." That's too bad, but at least there are places like La Pizzeria offering an alternative to the large sports bars with soccer on one screen, ESPN Sportscenter on another and Tiger bloody Woods approaching the green on another.
Italy scores a first-half goal and is gifted its second late in the game on an egregious error from Ghana's most experienced defender Samuel Kuffour, who plays his club football, ironically, for AS Roma.
The crowd at La Pizzeria enthusiastically approves of the final score line with a notable roar and unsympathetic jeers for the Ghanaians.
Another Match, Another Country
The following day I'm pursuing my desire to avoid being surrounded by a mass of yellow jerseys (see "Joga Feo: Why I Hate the Brazilian National Team" sidebar) as everybody's default favorite team, Brazil, takes on Croatia in their opening match. It's hard to believe, I know, but in this group I'm pulling for Croatia—and Australia and Japan for that matter—so I make a hopeful beeline to the Adriatic Café on Bascom Avenue to peep the Balkan scene. It's small, dark and at the rear of an oddly arranged mall, but once inside I may as well be in another country, as the patter of conversation is not English. I'm intrigued by the authenticity of the place as the 20-odd men in the room drink Slovenian cola and orange soft drinks (no alcohol here, but I'm cool with a "Cockta" cola).
That's when I notice that there are absolutely no women here. Not one. No matter, I'm here to see the game and pull up a stool at the bar hoping that I'm not being scrutinized as some lost Brazilian fan who's friends have fooled him into believing that the Adriatic is geographically closer to Brazil than Croatia. The match begins and the crowd in the cafe immediately gets into the spirit of the contest, jeering disapproval at a careless giveaway from a Croatian defender and then obvious admiration for the sublime abilities of a player we all wish we had on our side, Ronaldinho. But it seems what's most riveting to the fans in the cafe is when the camera pans to the sea of red-and-white-checkered shirts in the crowd as the throngs of Croatian fans sing and clap their outstretched hands in unison to impressive effect. Scratch what I said about the most riveting scene of the game as the obligatory shot of two comely Brasileiras in green and yellow feathery headdresses appears on the screen and elicits the hoots one would expect in a room full of men.
Just before the half, Brazil score on a majestic shot from Kaka, but furthermore the cafe has its first female patrons and the air sweetens, literally, with their presence, providing some metaphorical hope that even though Croatia is down 1-0 at the half, the second act could be for Hrvatska. It doesn't happen and Croatia lose 1-0, but they played tough and the Croatian fans in Berlin are ruling the stands with a cacophonous wall of singing, red flares ablaze, and enough passion for two countries. A person could be forgiven for thinking Croatia had just won 3-0.
What surprises me the most is that when I inquire with a young man sitting next to me if the Croatian fans in the cafe mind losing to Brazil he responds that only one guy here is Croatian. The majority, it seems, are Bosnian and that stands to reason as San Jose has seen the community grow since the Bosnian war of the early '90s. It hardly matters whether they're Croatian or Bosnian as these football fans came to the Adriatic to feel closer to "home" and to have a nice burek for lunch. I enjoyed my burek, the match and especially the fact that as I depart and make my way to my car a man inquires something of me in Bosnian, and though I have to admit ignorance I'm just glad that I've not been mistaken for a lost Brazilian fan of the selecão way off course.
The Beautiful Game
At a certain point in my young life around the age of 11, my eldest brother pulled some footwork on me and, frankly, I've never been the same since. Soccer became the sport I was naturally drawn to for its sheer poetic grace, artful capacity and exotic historical roots. Watching Soccer Made in Germany with Toby Charles on KQED and English football on KTEH with Mario Machado and admiring the incredible atmosphere at the far-off grounds of Europe filled me with a growing wanderlust to seek out the experiences that I knew could not be fulfilled by watching the Oakland A's play ball at the Coliseum. I've since reconnected with the A's after becoming a father, but my heart remains true. Even though the San Jose Earthquakes may come and go like some unpredictable fashion trend, there's no turning back from 30 years of lustful desire for the fútbol.
So San Jose isn't Barcelona, and I don't expect to find anything similar to the cafe in Amsterdam's Jordaan neighborhood where I watched Ajax play PSV Eindhoven years ago tucked away in Willow Glen, but the adventures are out there to be had in some unlikely places of the South Bay. I wouldn't have named my son Marco after a legend in Dutch football, Marco Van Basten, if I didn't intend on sharing with him someday the simple pleasure of being someplace where my ridiculous, consuming yet altogether humble vice rules the cathode ray scene and you don't have to share it with NASCAR. Until then we'll drive around like maniacs for a place to catch some of the World Cup and partake of una bella pizza or a good burek.
Send a letter to the editor about this story.