June 28-July 4, 2006
home | metro silicon valley index | features | silicon valley | feature story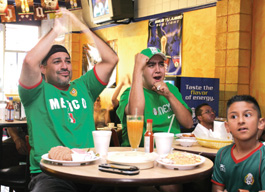 Green Energy: Tony Lucero (left) and Javier Preciado celebrate a goal at Futbol Antojitos y Mas in San Jose during the Mexico-Portugal game.
The Valley Is Watching
The World Cup has a way of stacking transcendent moments that burn into the long-term memory
Photographs by Felipe Buitrago
2006 World Cup:
Cup memories | Pickup soccer games | Brazil's national team | Soccer fans in Silicon Valley
8:55am, Friday, June 9
Britannia Arms Almaden, San Jose
Germany 4, Costa Rica 2
I'VE BEEN waiting for this day for four years, a day that begins a month-long immersion into World Cup craziness. It's a time to obsess over small African nations, to see the giants fall victim to mortality and young lions rise. Goals are good, but so are assists, saves and goal-line stops.
Walking into Britannia Arms Almaden five minutes before the opening World Cup game between Germany and Costa Rica, my stomach is empty and my head is full of expectations. I'm welcomed by 18 television screens tuned into ... sumo wrestling? ESPN2 hadn't crossed over its feed yet and a filler show with fat guys slapping each other is the lead-up to kickoff.
"Am I in the right place?" I ask Britannia Arms head John McKay.
"I saw you coming, so I changed it," he jokes.
The pub's tables are 75 percent filled. There are few German and zero Costa Rican restaurants in the valley, so Britannia Arms becomes the default spot for World Cup viewing. A few fans are wearing Costa Rica jerseys, but it's mostly a bipartisan crowd wanting to see good soccer game. I overhear a conversation explaining the offside rule. Woah. Being at the Brit for the opening game of a World Cup at 9am is a commitment for true soccer enthusiasts. To be here and not know what offsides is? This is a different World Cup, drawing a different crowd—not just for the pomposity of free kick specialists like Argentina's Juan Riquelme, but to consume a worldwide obsession.
On the screens, the Germans are teeing off on the Costa Ricans, racking up four goals to CR's two. Scanning the room, McKay points out a few solitary punters having beers while the rest consume coffee and juice with their breakfasts. McKay also notes the children enjoying the game with their parents and a couple of guys "telecommuting" on the Brit's free WiFi.
"Twenty years ago, it wouldn't have been like this," McKay says. "There'd be guys getting drunk. Now you have people drinking coffee and Red Bulls. There's a few women here, families. It's a different Cup." Literally. From pint glasses to coffee mugs.
It's only the first game, I try to remind myself, but one game in and I'm already bummed the Cup's almost over. One down, 63 to go. Let's do the math:
Eighteen plasma and flat-screen televisions: $24,000
English Breakfast (scrambled eggs, toast, Heinz beans, grilled tomatoes, banger and Irish bacon): $10
Calories Consumed (approx.): 4,000
Man Hours Wasted: 3
Watching World Cup games in a pub with a bunch of soccer fans and newbies: Priceless
Todd Inoue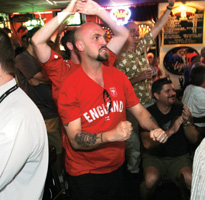 England's Dreaming: Lee Robinson takes in the England-Sweden match at Britannia Arms Almaden.
Noon, Sunday, June 11
Casa do Benfica, San Jose
Portugal 1, Angola 0
Tucked away at the corner of 23rd and Santa Clara streets in San Jose sits a private Portuguese establishment called Casa do Benfica, named after the legendary soccer team from Lisbon, Portugal—one of Europe's most storied clubs. Portugal's opening match of the 2006 World Cup against Angola took place on a Sunday at noon and Casa do Benfica hosted somewhere between 100 and 200 folks—almost of all of whom were either native or second generation Portuguese.
Old men sat outside, drank coffee, chain-smoked and played cards during the run-up to kickoff. On the widescreen, Angola kicks off against the country that held colonial rule over the small West African nation for 400 years. But inside the place, there are little reminders of this chapter of Portuguese history. One finds a bar, restaurant tables and walls covered with photographs of the Benfica squad and their home stadium. Folks continued to roll in throughout the match, most of whom sported Portugal's traditional red and green colors. Several had Portuguese flags draped over themselves. Bottles of Portuguese beer, and, strangely, Corona, flowed from the bar. In the banquet room of the establishment, folks pulled white plastic chairs out of their stacks, dispersed them throughout the room and watched the game on a widescreen television. It felt like a street cafe in Lisbon.
Out in the parking lot, folks lit up the barbecue and threw slabs of meat on the grill. It was the quintessential Portuguese party of San Jose. The only Portuguese word I know is obrigado, which means thank you, and I learned some new swear words. And even though I couldn't understand it, listening to the native coverage was a refreshing change from the embarrassing commentary on ESPN and ABC.
As soon as Portugal scored five minutes into it, the place completely, wholeheartedly and unanimously erupted. Hues of red and green blanketed the landscape. Folks out in the parking lot danced and cheered. Portuguese captain and worldwide legend Luis Figo, one of the best players alive, went on a brilliant run to set up the play, and probably wishes he could have observed the hordes at 23rd and Santa Clara screaming, "Fiiiiiiiiiiiiiiii-go"—all while imbibing at high noon. Obrigado, Casa do Benfica, obrigado.
Gary Singh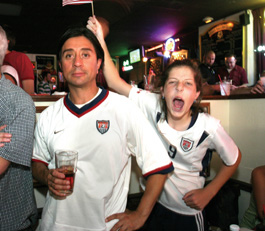 Making the Flag Cool For the Rest of Us: Heather White (right) cheers on the U.S. team against Italy at Brittania Arms Almaden. At left, Danny Marisol takes a more relaxed approach.
9am, Monday, June 12
Britannia Arms Almaden, San Jose
United States 0, Czech Republic 3
Johnny Moore watches the USA-Czech Republic game at the Brit, surrounded by his family. Moore was general manager of the San Jose Earthquakes during the Landon Donovan years. He takes great pride in watching his young charge contribute, as well as national team members and former Earthquakes Brian Ching and Eddie Lewis. He acknowledges he has a more personal stake in the game.
"The American guys go in with a whole different attitude," he says, during halftime. "There's no way you can explain the level they're playing at. At some point, the boys on the field are the best 11 players in the biggest country in the world. It's a hell of an accomplishment."
"You take a lot of pride in it for a lot of reasons, but seeing the game continue to grow and see kids born and raised here who got better and better live out their dreams on the biggest stage of the world—that's great to see," he says.
Moore grew up in Scotland but came to America to play with the Earthquakes and the American national team (1971-74). "I had the honor of playing for the jersey when we weren't organized and didn't have the finances. Seeing these kids play when they have such a great program behind them and going there confidently to play is a great thing."
Earlier this morning he sat with three Australians who were celebrating their opening World Cup win against Japan. When asked if ever the day came that Scotland and America met in the World Cup championship game, who would he root for, the answer was simple: America.
"I'm an American. I had the honor of playing for that jersey and it changed me completely for the rest of my life. These types of games mean more to me than most people. My sons are born here. My grandsons are born here. My wife is born here. My dream is to see America win a World Cup."
Todd Inoue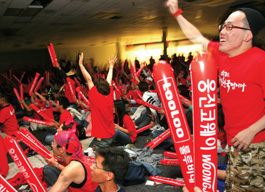 No Holding Back: Korea's games were the wildest soccer scenes in Silicon Valley this year. Fans like these at Galleria Market in Santa Clara, who watched their team play Togo, went crazy for every goal.
5:40am, Tuesday, June 12
Galleria Market, Sunnyvale
Korea 2, Togo 1
The World Cup offers multiple opportunities to say, "Are you fucking kidding me?" and this is another one. It's 5:40am, the morning of the Korea-Togo game, and the Galleria parking lot is smashed. I can hear the noise going on inside from 100 yards. In 2002, the Korean national team galvanized the community with a punishing run in the World Cup, making the semifinals. The zeal crossed the ocean, where stateside Korean-Americans bathed themselves in Red Devil face paint to cheer on its national team squad.
The Galleria hosted late night viewing parties, and for 2006, the party has been moved from the deli to an abandoned CompUSA in the shopping center, emptied of everything except a dividing wall. Organizers set up two projection units in front of the walls and broadcast the Korean feed of the game.
I venture that around 300-400 people are up in here. They bang on Korean drums and percussion, a sound system blasts accelerated, amplified K-pop and a few very enthusiastic cheerleaders rock the mic, exhorting the gathered with "Dae Han Min Kuk" ("Korea") and "Pilseung Korea!" ("Korea must win!" roughly translated). An opportunistic high-tech company gives away stacks of Red Devil shirts and thundersticks. A Todai rep gives away two-for-one coupons. The ball hasn't even dropped and the mood is euphoric.
The diversity in age is apparent. There are moms, dads, aunts, uncles, grandparents and a few infants—all wearing their Red Devil colors. Sang "Sam" Ahn owns a San Jose painting company. He also is president of the local Korean American Soccer Association, which has 10 teams spread out around Northern California. This morning, he's bouncing around the front of the group, dressed in a South Korean flag shirt with a yellow visor, microphone in hand, leading the chants.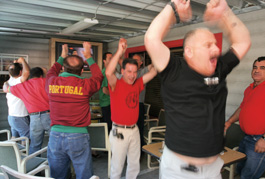 East Side Spirit: The Portugal crew rallies at Casa Do Benfica in San Jose during the game against Iran, led by the club's president, Tony Fraga.
Ahn predicts 2,000 people for the Korea-France on Sunday and advises I get there at 11am if I want to get in.
"I'm very proud of Korean soccer players," he says, catching his breath. "I'm very proud of our team. Even though we live in the United States, we support the Korean national team. I cheered the USA yesterday but Czech won. We're proud of both teams."
Jon Cotta and Jenny Lee drove down from Burlingame to watch the game. Korea is their favorite squad for a couple reasons.
"They play real hard, never give up and are real fun to watch," says Cotta. "They might not be the biggest team or have a ton of superstars, but they play as a team. They don't get down when they go under 1-nothing. Other teams roll over. They keep fighting."
Togo scores a nice goal and enters halftime with the lead. When Korea equalizes on Chun-Soo Lee's free kick, the place goes berserk. And when they go ahead on a score by Ahn Jung-Hwan—the permed hero of the 2002 cup who did the speed skating routine when he scored against the USA—I'm worried my ears might bleed.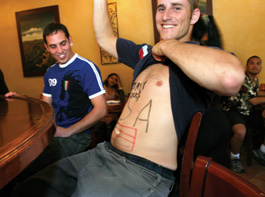 If It's on My Stomach, It Must Be True: Chris Houston (right) opens an intellectual debate about their respective favored teams with Ivano Ruso (left) during the USA-Italy match.
The screen is obscured by flailing shadows, bodies relishing a go-ahead goal. Jenny Lee jumps up and down screaming and accidentally knocks over a seated Cotta, pushing back the rehab of his indoor soccer injury. Pain turns to pleasure as he gingerly gets up and bear hugs Lee. The two start up chants again.
I ask a few people, why does it take a sports event like the World Cup for first and second generation Koreans to unite? Nobody knew the answer; they just knew it was a profound moment to get everyone together, cheer on their boys and have a good time.
"We organize first or second generations, because even though we live in the same house and community, we have communication difficulties," Ahn says. "Once in a while, we have this event that unifies the community."
Lee, too, wonders why it takes a soccer tournament to get everyone together. "The second generation finds their roots in cheering stuff," she says. "All the Koreans in the Bay Area get together and cheer. Usually they don't unite, but through this game, everyone unites and I think that's a really good thing."
Todd Inoue
Send a letter to the editor about this story.