June 28-July 4, 2006
home | metro silicon valley index | the arts | stage | review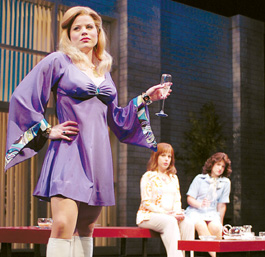 Photograph by David Allen
The Good Old Days: Mary (Megan Hilty, front), Kathy (Leslie Kritzer, center) and Joanne (Sarah Stiles) are pep-rally friends in 'Vanities.'
Pom-Pom Pals
Three friends relive more innocent days in TheatreWorks' premiere musical 'Vanities'
By Marianne Messina
ANOTHER in a truckload of '60s/'70s coming-of-age stories, Vanities is merciful in its references to the period (well, except for a song about mood rings and platform shoes that moves the story into the '70s). Instead, this TheatreWorks musical premiere focuses on something more universal: friendship. From the beginning scene when the three best friends in their pleated, blue and gold cheerleader skirts plan their Friday afternoon pep rally, we see the poignant underside of their "inseparable" friendship. As they sing/talk about the weighty subjects of the day—boys, cheers and pom-pom positions—the spotlight singles each girl out (the other two freeze in place), and we hear her secret thoughts: "God, they're so intense, feverish and driven," sings one. "Mary's kind of crass; Kathy's kind of kooky," sings another. And that kicks off the theme that friendship is a balancing act of diplomacy.
After four more years as college sorority sisters, the three Texas girls go their separate ways, meeting up years later in New York for an uncomfortable reunion. TheatreWorks' three performers create a wonderfully diverse triumvirate. Megan Hilty as the blonde, "wild," footloose and sexually jaded Mary, Leslie Kritzer as Kathy the perennial party-organizing brunette and Sarah Stiles as the terminally status quo Joanne offer equally diverse singing voices, according to their roles. Stiles' remains in perpetual childhood, Annie material, in fact; Hilty sings low and sometimes angry, including a bit of R&B for Mary's sultry walk on the wild side. And Kritzer's rich voice suits the reflective ballad at the end of the reunion scene, a warm reprise yearning for the girlhood bond, but with no illusions: "If it rang a little false, still it was said with all their hearts." More than anyone, Kathy makes peace with friendship's imperfections.
The high school senior phase, the most musically satisfying, as well as the most humorous, starts the musical out high and hilarious. Innocently, Joanne proposes cheers like "Go all the way," and Mary cynically remarks, "What will people think?" When a voice announces over the intercom that President Kennedy has been shot, the girls are distraught and then relieved when they learn the pep rally will go on as scheduled. John Arnone, who designed sets for the original off-Broadway play in 1976, created the perfect gymnasium—brick-wall, bleachers, scoreboard and those dismal overhanging lights with the protective cages on them.
The girls treat upbeat '60s-style sounds to some three-part harmonies, especially delightful when each girl is singing her separate story. However, the sorority scene (though enjoyable) is expendable, covering the same ground with a bit more period stereotype (protesters, McCarthy supporters, hippie fashions, blah, blah, blah). Plus it leaves no time to resolve (or even explore) the stampede of events and conflicts that befall the adult trio. As a result, the final scene where each girl sits at her vanity (doubling a cute opening scene, in which they sang "Hey, there beautiful" into their mirrors) turns into a head-spinning litany of marriages, divorces, kids and moves. The original play probably owes its success to the allure of an innocent state of mind—regardless of era. And in this production, everything from the way the girls don those varsity letter sweaters to the refreshing celebration of popularity (giving the "mean girls" image a rest) makes it easy to long for the ephemeral (perhaps imaginary) sense of bonding that seems to come so easily in high school.
Vanities, a TheatreWorks production, plays Tuesday (except July 4) at 7:30pm, Wednesday-Friday at 8pm, Saturday at 2 and 8pm (8pm only on July 15) and Sunday at 2 and 7pm (2pm only on July 2 and 15) through July 16 at the Mountain View Center for the Performing Arts, 500 Castro St., Mountain View. Tickets are $20-$62. (650.903.6000)
Send a letter to the editor about this story.