07.01.09
home | metro silicon valley index | columns | silicon alleys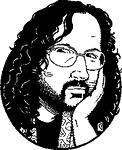 Silicon Alleys
Lucky Seven
By Gary Singh
JUST IN TIME for July, the seventh month, along comes a book by San Jose's own David Eastis, titled 7: The Magical, Mystical and Popular Number Seven. Aside from providing a grandiose taxonomy of all things related to that lucky number, the book claims that San Jose is the "City of 7" because it was founded in 1777, contains seven letters and has seven sister cities—and both the San Jose Police Department and the Santa Clara County Sheriffs' badges have seven points. He mentions that in 2007 Cisco Systems, headquartered in San Jose, was the 77th largest company in the United States according to Forbes magazine, and that same year, San Jose was seventh on Coldwell Banker's list of most expensive U.S. housing markets.
For kicks, or maybe not, Eastis adds that seven San Jose Sharks players have worn the number seven jersey and that the stone arch above the entrance to the Superior Court Building has two sets of seven designs. He also includes San Jose's Seven Trees Neighborhood, the Seven Restaurant at 754 The Alameda (the seventh block, he says), the Seven Bamboo karaoke bar in Japantown and the seven-story building at 777 N. First St. I think he may be onto something.
The San Jose–related material starts on page 196, but before that we get meticulous lists of sports figures who wore the number seven; cities, colleges and surnames containing seven letters; and explorations of how the number seven manifests itself in various cultural, religious and mystical contexts.
Eastis, who says he was born seven months after conception, calls himself a "septophile," meaning a devotee of the number seven and all things related to that numeral. I originally hooked up with Eastis in 2003 when he was head of the Silicon Valley Slow Food Convivium. I was writing a cover story on the group and joined them at a decadent feast in Menlo Park. Now, he and his wife live near Sacramento, and he is the chief fundraiser for the UC-Davis department of internal medicine.
"For as long as I can remember, seven has been my favorite number," he explains. "But it took on far greater, more compelling meaning for me when I realized that seven held special meaning for many other people, has strong sacred symbolism in many religions, is prevalent in many aspects of nature and is embraced by numerous luminary figures in literature, in the entertainment industry, in politics and other realms."
Fortunately or unfortunately, the book is not a conspiratorial screed filled with apocalyptic numerology or anything remotely similar. Instead, Eastis takes a more populist approach. He includes song lyrics, movie titles, pop-culture references and even an entire chapter (the seventh one) on the marketing panache of the number seven, as in 7-Eleven, 7-Up, Jack Daniel's Old No. 7 Brand, the 7-Layer Burrito at Taco Bell and Seagram's 7 whisky.
Of course, we can go on  and on, and Eastis does—the Seven Dwarfs, the seven chakras, the seven notes of the musical octave, the Seven Seas, the seven lucky Japanese gods, the colors of the rainbow, the pillars of wisdom, the continents, the samurai, the Wonders of the World, the seas and how 007 James Bond was briefly renamed 7777 in You Only Live Twice.
Since I love this stuff, I'll add more: Carl Jung's Septem Sermones ad Mortuos (Seven Sermons to the Dead) supposedly laid the foundation for most of his subsequent creative work, and Albert Pike's Morals and Dogma of the Ancient and Accepted Scottish Rite of Freemasonry reminds us that there were Seven Heliadae, Seven Titans, Seven Corybantes, Seven Cabiri and Seven Karfesters who sired a new race on the summit of M. Albordi.
But I digress. In any event, Eastis concludes by stating that seven is also a powerful symbol for peace and that 7 percent of the profits from this book will go to seven different charities. He also responded to my last email by writing entirely in sentences of seven words each. The book can be ordered at www.sev7ven.com.
Contact Gary Singh or send a letter to the editor about this story.