07.01.09
home | metro silicon valley index | silicon valley restaurants | review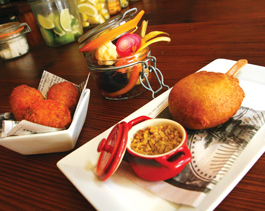 Photograph by Felipe Buitrago
SCOTTISH SPECIAL: Martins West Pub does haggis on a stick like no one else, not to mention Scotch eggs.
A Kiss of Haggis
Martins West Pub in Redwood City brings a California spin to the Scottish savory treat
By Stett Holbrook
YOU'VE GOT to love a restaurant that has the sense of humor and temerity to serve haggis on a stick. Haggis, in case you don't know, is a beloved Scottish dish made from, among other things, sheep organs and oatmeal boiled inside the animal's lungs. Haggis is also a funny word to say that sounds to me like what it is: haggis. 
Redwood City's Martins West Pub, a 2-month-old Scottish-inspired "gastropub," serves the intimidating dish in an approachable format: battered and fried on the end of stick. As offensive as the dish sounds, it's quite good here. In America, haggis is generally made in artificial casings like sausage, so it's really pretty tame. It's just a rich, savory sausage made with lamb heart, kidney, sweetbreads and little regular old lamb meat.
Smeared with a bit of the restaurant's excellent grainy mustard, it' s a corndoglike snack that's perfect with a round of beers. OK, haggis may be best after a few rounds of beers but it's really quite good. The batter is light and nongreasy and reveals a meaty, pâtélike interior that isn't nearly as intimidating as you might think.
The haggis on a stick ($4) forms part of a small plates and bar snack menu that is the strength of the new restaurant. It's when the kitchen ventures into bigger dishes that things go awry.
Martins West Pub gets its name from Martin Irons, owner of the original Martins restaurant in Edinburgh, Scotland. Irons was a childhood family friend of general manager Moira Beveridge. Martins West serves what might be called California-Scottish pub food, classics of Scotland's pubs freshened up with seasonal ingredients sourced from local farms and purveyors. The restaurant occupies the historic Alhambra building, a brick-walled space that gives the place a lived-in feel that only comes with age. 
The Alhambra opened in 1896 as a saloon. Wyatt Earp reportedly hung out at the bar to watch his wife sing in the adjoining theater upstairs. The 25-foot-long bar is made of redwood staves from an 80,000-gallon water tank. The wooden columns running down the center of the restaurant give it a solid but old-timey vibe. The new owners have a done a great job brining the space back to life. Its airy space lets the solid bones of the place shine through.
Chef Michael Dotson reportedly traveled to the pubs of Scotland to better understand the roots of the food he set out to adapt. Scotch eggs are another classic that get a lift here. Instead of chicken eggs, the bar bite is made with boiled quail eggs dipped in a thick coating of breadcrumbs and pork sausage and then fried. It sounds heavy and dense, but it's not. The little yolks are still runny.
Pasties ($5), small meat and vegetable pies beloved by pub-goers looking for a quick bite, are good, too. On my visit they were filled with corn and goat cheese.
Dotson is particularly adept at charcuterie. The Drambuie-flavored pork pâté ($7) arrives in a little glass crock with more of that great mustard, thin croutons and house-made pickled vegetables. It's heart-stoppingly rich and good. I also loved the rabbit rillettes and chicken-leek terrine (both $7). The terrine, like the rillettes, is also served in a glass container and layered with delicious chicken fat. Scooped out onto a crouton and followed with a glass of an acidic, fat-cutting wine like sauvignon blanc, it's a winner.
Not all the small dishes succeed. I was excited to see beef marrow ($8) on the menu, but the dish was a disappointment. Two stout beef bones are split vertically to reveal the rich and flavorful fatty goodness within. But the shower of buttery breadcrumbs served on top dominated the flavor of the delicacy underneath. The butter-soaked croutons served with the marrow only made things worse.
The spiced pork belly ($10) delivered the fatty goodness of the pork framed by the aromatic lift of spices like coriander and allspice, but I found myself removing the dense, cakelike bacon-and-scallion-flavored soda bread served underneath.
But several of the entrees really let me down. The zucchini-crowdie agnolotti ($16) was an abomination of medicinal flavors and gummy, coarse pasta. I'm guessing the pasta tubes were house-made. That's usually a good thing, but here the pasta looked and tasted crude and amateurish. Crowdie is a Scottish cream cheese, but there was little creaminess in little evidence here. Inside, the pasta was supposed to be filled with sherry-roasted spring onions and sweet corn, but all I tasted was an aggressive bitterness.
The grilled lamb T-bone ($28) with herbed haggis (yay, haggis!) was descent and well cooked but otherwise unremarkable. The tandoori-roasted halibut ($23) seemed far afield from the Scottish theme, but it was fresh and light and quite good with the creamy corn pudding and fava bean ragout served with it.
From the lunch menu, the soft-shell crab sandwich special ($16) sounded like a winner, but the modest Chesapeake Bay crustacean disappeared within the hulking bun. Way too much bread for so little crab. Either downsize the bread or upsize the crab.
Service is friendly and well meaning but still green. For a menu that's sure to elicit many questions, that's not good. When my order of three different charcuterie plates arrived, it took the server several tries to tell me what was what. On another visit, I asked what the haggis was made of, and I expected an interesting tale about how sheep lung is prohibited in the United States and how the restaurant adapted the Scottish dish to America, but instead all the server said was that it was made with "innards." Quite the sales pitch.
The cocktail menu, however, is another of the restaurant's strengths. The mixology trend of handcrafted cocktails built from house-made mixers and fresh ingredients has yet to take root in Silicon Valley, but Martins West is an oasis of expertly made, seasonally inspired cocktails that draw on the classics as well as on the new.
You would have difficulty finding a Sazerac at most Silicon Valley bars, let alone one that serves the infamous pre-Prohibition cocktail with its signature ingredient: absinthe. (Most are made with Pernod, a close-but-no-cigar approximation of the infamous liquor). The pub's version ($9) is the real thing. For a modern spin on a classic, check out the refreshing rhubarb mojito ($9). Made with house-made rhubarb syrup, fresh rhubarb, lemon verbena, Seltzer Sister seltzer water and hand-crushed ice, the drink is a gulpable work of art.
The bar also serves a number of fine beers and ales from the United States and the British Isles, such as Scotland's hop-sharpened Belhaven Twisted Thistle ($8). 
Desserts (all $8) are a mixed bag. I loved the dense, chewy creaminess of the "Mars bar," a deconstructed version of the candy bar made with a milk chocolate and dulce de leche custard, but the chunk of nougat served with it was so hard that I feared I'd snap off a tooth. The Devonshire cream tartlet was refreshing and rich, but the crust was coarse and dense and lacked the requisite buttery lightless. The sticky toffee pudding is more of a moist cake than pudding to me, but napped with a velvety toffee sauce and scoop of brown butter ice cream it was hard to find fault.
Now if they could find a way to work haggis into dessert I'd be really impressed.
---
Martins West Pub
Address: 831 Main St., Redwood City.
Phone: 650.366.4366.
Hours: Hours: 11:30am–2:30pm Mon–Fri, midday menu 2:30–5:30pm Mon–Fri, dinner 5:30–10pm Mon–Wed, 5:30–10:30pm Thu–Fri, and 5–10:30pm Sat.
Cuisine: Modern pub fare.Price Range: Entrees $16–$28.
Web: martinswestgp.com.
Send a letter to the editor about this story.