07.01.09
home | metro silicon valley index | movies | current reviews | film review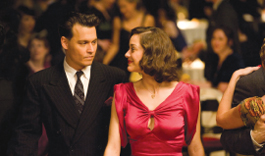 Peter Mountain; Copyright © 2009 Universal Studios
JOHNNY ON THE SPOT: Johnny Depp's John Dillinger cuts a rug with Marion Cotillard in 'Public Enemies.'
Gunfighters
Michael Mann's 'Public Enemies' is a skin-deep but good-looking story of John Dillinger
By Richard von Busack
IT IS well known that the last movie John Dillinger watched was Woody Van Dyke's fine, compact Manhattan Melodrama. Showing us Johnny Depp's Dillinger in Public Enemies, director Michael Mann slows down the image of Manhattan Melodrama's Myrna Loy onscreen. Suddenly, Mann's hiring of Marion Cotillard as the female lead, Billie, is explained. He picked her because she looks like Loy. Previous takes on the life of Dillinger had themes like "Crime doesn't pay" or "Society is to blame." Mann's is "It was only a movie."Mann carries out Public Enemies, a study of Dillinger's career from its middle to its end, in darting, little-cam movements. If it weren't for the music—1940s jazz in a 1930s world—the film would look Dogme-tized. The photography often uses high-def synthetic light: yellowish-white flares of gun bursts and gritty magenta torches burning. Mann loves the machinery: the cars, the vintage locomotive sliding into Union Station and a three-engined plane bringing Dillinger to one of the jails that cannot hold him. Here are a couple of the gunfights and cloudscapes Mann does better than anyone around, including the exterior of a lakeside prison at Michigan City, Ind. Mann turns the famous shoot-out at the New Bohemia into a version of the Battle of the Wilderness. One gangster has a sensationally picturesque death; he goes out plowing the earth with his Tommy gun as if he were digging his own grave. Surfaces come to mind when you can't hear the dialogue or can't tell who the new characters are supposed to be. In numberless close-ups, Depp emphasizes surface, too. Spilling out the capsulized details of his life in three or four lines, Dillinger asks Billie, "What else do you want to know about me?" That's meant to keep us satisfied, too. Who am I? I'm the guy playing Dillinger, that's who. Mann chases the Walker Evans out of the Depression. Everyone onscreen is a cop or a robber—with a few two-timing floozies on the side. Leelee Sobieski, looking more like Kim Novak than ever, has some shots in a film that doesn't give up much feminine beauty. Billy Crudup commands the screen playing J. Edgar Hoover—he enunciates and has a clear purpose, unlike most of the characters. Stephen Graham's psycho Baby Face Nelson seems modeled on Michael Badalucco's performance in O Brother, Where Art Thou?. The movie pegs Christian Bale's Melvin Purvis as a gunman who can't handle death, and that's his total character. Dillinger is caught in a pinch between Hoover's cryptofascist sympathies and the founders of organized crime in Chicago. Neither crooks nor law enforcers have room for a lone innovator.
The movie makes the master bank robber a gent, a showman, an ardent monogamous lover; when he takes hostages, it's to relieve them of the humdrumness of their lives. Public Enemies moves along quickly for its length, and it's an adult gangster movie in a market that has mostly given up on adults. But the film never achieves that extra tang it's reaching for—never establishes that link it reaches for, the link between those hard times and ours. The misguided attempts at relevance (an Abu Ghraib–style interrogation is the worst of these) are immaterial to Mann's purpose as a cold, skin-deep entertainer.

PUBLIC ENEMIES (R; 140 min.), directed by Michael Mann, written by Ronan Bennett, Ann Biderman and Mann, photographed by Dante Spinotti and starring Johnny Depp and Marion Cotillard, plays valleywide.
Send a letter to the editor about this story.