07.01.09
home | metro silicon valley index | movies | current reviews | film review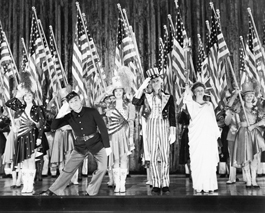 DANDY SHOW: 'Yankee Doodle Dandy' with Jimmy Cagney does patriotism credit.
Robot Turkey
The new 'Transformers' and a Cagney Classic show the two sides of movie patriotism on the Fourth
By Richard von Busack
SHOULD ANYONE be reviewing Transformers: Revenge of the Fallen as if it were a movie? I'm not sure it is one; they're showing it on a screen, they're selling tickets to it, but it's post-cinema. It is in essence a series of advertisements for GM, Hasbro and the U.S. Army, but the connective tissue has broken down somewhere. The only unposed minute is the shot of two dogs coupling. And even they were computer animated.
As after any other blunt-instrument trauma, it took a little recovery time to comprehend what just happened. One faces the options of surrendering to Transformers 2 as if it were a piece of Dada or Surrealist art—as critic Charlie Jane Anders suggests in a witty Internet provocation. Or one can put up a fight and get slammed with personally insulting emails, as some of my colleagues have.
Anders is funny, but her piece made me feel worse. Under the wit is the implication that the crowd is right because they're a crowd—that Shia LaBeouf is "actually a fine actor." Evidence? That Transformers 2 is, in that verdigris-covered simile, like ___ on LSD and steroids (in this case the word in the blank is "Terry Gilliam"). And ultimately it was "actually quite funny."
I laughed a couple of times; the attack on the Parisians was so low. The unfunny side of Transformers 2 is its subtext about a civilian government losing its nerve. Obama quivers in his bunker. The military stands in the gap, under the banner of Optimus Prime, while subprime robots Step and Fetchit, excuse please, Skids and Mudflap, wait for their instructions from their racial superiors. The CIA (in the form of ex-agent John Turturro) and the Army override the weak and piping government. Sam Witwicky leaves his hoity-toity college and gets his war on in the Middle East. There, our little brown brothers are glad to see us. Why shouldn't they be? At last, we can explain to them how the pyramids got there.
The contradictions of a Michael Bay film are numerous; he wants your head to explode, not your mind to wrap around anything. You've heard it all at this point: it has to be stupid, it won't work if it's not stupid; it's stupid to expect it to not be stupid. Yet some have tried to sound Transformer 2's depths. All sympathy for the teachers of one person writing at a certain website who defended the mythic quality of the Transformers 2 in exactly these words: "It has a very deep plot that basically always came back to the good guys trying to stop the bad guys." 
Bay's trick is an orgasmic love of military hardware countered by a hatred of the politicians who buy it. It takes a romantic—not to say simple-minded—mentality to be simultaneously pro-military and anti-government. It's like saying, "I love my fist, but I hate my hand." Bay has worked this angle hard, so expect a brewing blog attack on critics, who are anti-American or at least anti–American entertainment. What can you expect from the liberal elite as opposed to the sons-of-the-soil Paramount execs pushing this vast mechanical dog's egg?
The odd part is that Transfomers 2 mirrors the old style in patriotic movies, with Bay loving the flags and uniforms as much as any crowd-rouser of Hollywood's studio era. Older versions are quainter but more heart-felt, less self-conscious. Michael Curtiz's Yankee Doodle Dandy (1942) is the Stanford Theatre's beloved traditional July 4 offering: a movie that honors middle-American values without insulting the hell out of the intelligence of middle Americans.
Shot during the winter of 1941–42, the movie notes the storm clouds over the nation with an exterior shot of the Capitol in a downpour. The film's inner story unfolds in shifting scenes from World War I to World War II. The progression acknowledges the bad nerves and doubt in the audience as the new war began. 
As song-and-dance man George M. Cohan, James Cagney's self-assured performance is incandescently good movie acting—commanding and self-mocking at the same time. Cagney performs the catchy title song as part of a play titled "Little Johnny Jones," about an American jockey gone to England to ride in the Derby, only to be defeated by guile and sent home in disgrace. It's not a high-pitched number; it has a confessional side. Singing "Yankee Doodle Dandy," Cagney reaches for an imitation of Cohan's distinctive clear-throated readings of the lyrics. Stage lights whiten Cagney's face, and photographer James Wong Howe recalls Toulouse-Lautrec's pictures of performers leaning over the orchestra pit, arms spread. Doing the flag-waving tune, and the endearing stiff-legged dance—an Irish ancestor to Chuck Berry's duck-walk—you can see both a performer's honest pride in citizenship, as well as the part of him that is counting the house.
It's reassuring to discern the showman visible through the patriot. The sight says something about the confidence in the nation's ability to tell the difference between a show and the natural deep feelings of love of country. It's similarly depressing, in Bay's case, to watch him wrap himself in the flag for as long as the audience will buy it.

YANKEE DOODLE DANDY shows with FOOTLIGHT PARADE July 3–6 at the Stanford Theatre in Palo Alto.
Send a letter to the editor about this story.