07.01.09
home | metro silicon valley index | music & nightlife | band review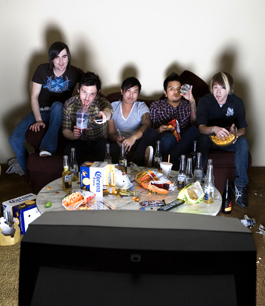 ediphotoeye
COUCH CONTESTANTS: Raelin warms up the Battle of the Bands with a round of channel surfing.
Battle Tested
Raelin is ready to rock the Battle o the Bands at Los Gatos' Venue
By Garrett Wheeler
EVERY LOCAL music scene has its own version of a battle of the bands. Small-town venues might pit a few high-school groups against one another, offering a grand prize of bragging rights. In places like L.A. and New York, a battle of the bands can be a far greater ordeal, representing the potential stepping-stone from which an aspiring group might catapult to stardom.
And then there's the South Bay's 2009 PinUp Productions Battle of the Bands. Already into its third week, the show series boasts a whopping 54 bands playing at three different venues, with a grand prize of $10,000. Talk about an economic stimulus package.
"Winning the Battle would be amazing; there's so much we could do with that prize money," says Phil Bates, guitarist for the Hayward quintet Raelin, which plays on July 10 at the Venue in Los Gatos.
The costly expenditures that all bands face are suddenly roadblocks that can be hurdled in one fell swoop. All you have to do is play better than 53 other bands.
"I'm not going to say we're going to win," Bates says, "but I do know that we're going to step it up and bring more to this show than we have [to past shows]."
Formed in 2008 by Bates, bassist Uli Rodriguez and drummer Namor Nalupta, Raelin creates music that is something of a post-hardcore meets hard-rock affair, with bits of metal, Southern rock and pop sprinkled in the mix.
During one of the group's early rehearsals, a newly recruited singer showed up late for practice, forcing Rodriguez to fill in on vocals. "Uli got on the mic and started singing, and we realized that he was better than the other guy; actually, he was the best singer I'd heard in any band I'd ever played in," Bates recalls. "The other guy had flown in from Ohio to try out with us, so he flew home a few weeks later."
After completing their lineup by adding bassist Miles Franco and guitarist Lenny Heredia, Raelin were ready to unleash what they like to call "dirty rock." "It's not about what we look like, or how fantastic our stage show is," Bates explains. "It's just about playing good, straight-up rock & roll."
Raelin's influences fall on all sides of the spectrum. Diversity is its weapon, and the battle of the bands its call to arms. "We don't like to categorize what we play. It's not punk, or pop, or hardcore—it's just rock," Bates says. 
Given the band's aptitude for changing things up on a whim, it might come as a surprise that Raelin's San Jose fan base can keep up; in fact, the variation seems to be what's drawing them in.
"Whenever we play San Jose, it feels like more and more kids come out to see us," Bates says. "It's really cool to see familiar faces coming in support." Bates remembers a show Raelin played in San Jose last year with the post-hardcore outfit Drop Dead, Gorgeous. "We were a fairly new band at the time, and we didn't have a full setlist yet. I think we played three or four songs that hadn't even been recorded yet, but somehow all these kids knew the lyrics and were singing along."
Raelin's determination to bring out the masses isn't just about personal gain, it's about community.
"The scene [in the Bay Area] is really pretty weak," Bates admits. "We'll go to a place like Texas, which has a great music scene, and come back home and it seems almost nonexistent in comparison. And we want to change that. We're working with our friend's bands, playing shows together as much as possible and trying to bring people together to just hang out, party and listen to good music. It's an ongoing process, but we feel like we can help revive the music community here."
The spirit of community that Raelin and other groups are determined to cultivate is no better realized than by Battle of the Bands, which gathers groups across all rock & roll genres and drops them into one exciting, competitive event. On July 10, Raelin will go head to head with a ska band (Trouble in Paradise), an indie folk-rock group (April Chase) and a punk-rock band (the Golden Hour). The other nine preliminary rounds are no different. By September, fans can expect a final showdown of similar variety.
"It would be an honor to win," says Bates, "and there's a lot we could do with that money. But either way, we'll be touring full time by next year, releasing a full album [an EP is due out next month] and hopefully getting noticed by some bigger labels."
BATTLE OF THE BANDS continues July 10 at the Venue, 4 New York Ave., Los Gatos, and runs through Sept. 5. For more details, visit www.myspace.com/pinupproductions.
Send a letter to the editor about this story.