07.01.09
home | metro silicon valley index | music & nightlife | band review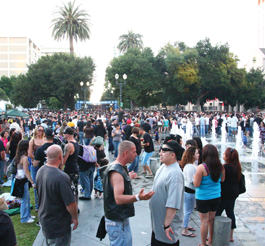 Photograph by Shar Guzman
MEET ME AT THE PLAZA: The Thursday-night crowds at Music in the Park enjoy a chance to unwind after work.
Music for Nothing
By Colleen Watson
BESIDE THE FACT that people are melting into hot sticky messes on the streets of San Jose, I'm excited because it's officially summer. And summer means Music in the Park in Plaza de Cesar Chavez in downtown San Jose (sponsored by, among others, Metro). And during an economic slide of epic proportions, a free concert is always a plus. The plaza is within walking distance of my apartment, so I get to avoid the parking snarls that always seem to occur. But once you get there, the people are nice, and there is lots of food, drink and entertainment to be had. I put a blanket down on the grass and hope that the people next to me aren't too weird.
Two weeks ago, I saw an old favorite of mine, Third Eye Blind. I loved them when I was in high school, so I was excited to get the chance to see them without springing for tickets and ticket surcharges. I arrived a bit late, so I was toward the back, but you get the best people watching there, so I was fine. Thankfully, the band played a lot of its older music.
I'm also anticipating Eek-A-Mouse on July 9 and Better than Ezra on Aug. 13. But whoever is playing, I tend to stop in because who can't use a free concert and a little beer on a Thursday night? The shows starts at 5:15pm and run every Thursday through Aug. 27.
Send a letter to the editor about this story.