06.17.09
home | metro silicon valley index | columns | style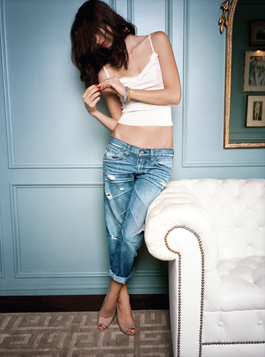 DAMSEL IN DISTRESSED: AG Adriano Goldschmied's denim collections feature natural variations of wear and tear.
Jean Scene
By Andrea Muniz
THE DAYS of '90s grunge have made their comeback in the form of faded, torn, used and abused denim. Though the look made small appearances throughout 2008, "distressed" or "destroyed" denim is all over the summer 2009 runways. This slightly rebellious garment gives off an "I don't care that I have holes in my pants" attitude, with a vintage twist. Whether boyfriend, skinny, pencil or bootcut, all jeans styles have become victims of slashing and thrashing.While some designers like Balmain and Siwy Denim stay true to the idea of shredding bottoms into ribbons, other designer brands put a modest and conservative twist to this trend with strategically placed rips and wear.
AG Adriano Goldschmied's ex-boyfriend crop jean gives a comfortable yet stylish look that has been seen on celebrities like Eva Longoria Parker and Gwyneth Paltrow. A similar distressed and cuffed style comes from Joe's Jeans in its cropped ex-lover boyfriend jean. Nicole Richie and Nicky Hilton, sister to Paris, have been spotted in JET by John Eshaya's thrashed look. This particular jean is dark in wash, skinny in style, and sports seven different slashes on the front.
The current jeans craze isn't only for women. Levi's offers a variety of men's jeans in destructed washes with different hues, while MEK Denim's Amsterdam gray straight jean gives a laid-back and casual vibe without trying too hard.
For those fashion-forward individuals with dwindled bank accounts, similar styles can be found at Hollister Co. or Abercrombie & Fitch for both sexes. Eco-friendly creative types can take scissors, sandpaper or razors to recycled jeans and transform them into newly chic bottoms.
Like any fashion breakthrough, this look can be taken in two directions: flattering and just wrong. Because these bottoms are so busy, the most important thing to remember when putting together ensembles is simplicity. Ripped shirts, crazy shoes or bold patterns take away from the main piece. A white tee with flip-flops gives a casual feel; a solid-color top, ankle boots and a fitted blazer provide a cleaner look. Though 2009's version of destroyed denim is more modest than what many are used to, it still manages to keep its edge.
Send a letter to the editor about this story.