07.01.09
home | metro silicon valley index | columns | silicon veggie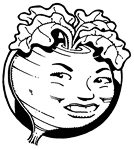 Silicon Veggie
Chicken and Egg Questions
By Elisa Camahort
LAST NIGHT, I attended a lovely catered dinner party for 12 people. I was, no surprise, the only vegan, and the hosts went out of their way to make sure I was accommodated, from the hors d'oeuvres to the dessert. It was a wonderful meal.
One of the guests quizzed me about my veganism there at the table, right after everyone but me had been served their meat course. (This happens a lot, actually.) Mostly he wanted to know why no dairy, why no eggs—and even when I had gently explained about factory farming and the death and suffering associated with it, he wanted to know what I would do if I knew, knew, that the eggs or dairy came from a farm where that cruelty did not occur.
I countered that I didn't think most of us could really know, and further, that most of us did not have the luxury of access to such products, if they indeed existed. It was far simpler to avoid the choice. I also wouldn't deny that veganism is rarely purely a personal choice but rather a personal choice that purposely makes a political statement—about accessibility, environmentalism, health, animal cruelty, etc.
His final question was, what if you raised the chickens yourself—would you eat their eggs?
My initial response was that if I raised the chickens and treated them as well as I have treated the cats and other pets that have been in my life, and if they laid eggs, because that's just what chickens do, then maybe, yes, I would.
Of course, then I started parsing out the whole fertilized vs. unfertilized thing, and thinking about how morbid it would be to raise and love pets and then eat their potential babies. And then I realized that I didn't really know much about chickens and eggs, and I started wondering if a chicken laying an unfertilized egg was like a woman having her period. It kind of went downhill from there—if it can go downhill from there. (And no, I didn't bring up that last point at a lovely catered dinner party, in case you were wondering exactly how uncouth I can be.)
I think I am going to be like a White House press secretary and beg off dealing with hypotheticals. Bottom line: In this life, under these circumstances, being vegan checks all the ethical boxes I want to check. No detective work required.
Send a letter to the editor about this story.