July 4-10, 2007
home | metro silicon valley index | columns | 5 things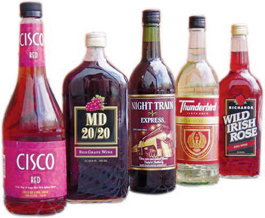 5 Things to Love
Classic Bum Wines
By Stett Holbrook
BUMWINE.COM is a website dedicated to the appreciation of the subgenre of alcoholic beverage made especially for down-and-out alcoholics, the homeless—or both, as is often the case. These "beverages" are cheap, powerful and staggeringly foul tasting. The following five twist-cap tipples are the most widely available. The descriptions are provided by the intrepid testers at Bumwine.com.
Cisco Red "Everyone who drinks this feels great at first, and claims, 'It's not bad at all. I like it.' But, you really do not want to mess around with this one, because they all sing a different tune a few minutes later. And by tune, I mean the psychotic ramblings of a raging naked bum."
MD 20/20 "This is a good place to start for the street wine rookie, but beware; this dog has a bite to back up its bark. MD Stands for Mogen David, and is affectionately called Mad Dog 20/20. You'll find this beverage as often in a bum's nest as in the rock quarry where the high school kids sneak off to drink."
Night Train "Don't let the 0.5 percent less alcohol by volume fool you, the Night Train is all business when it pulls into the station. All aboard to nowhere—woo wooo! The night train runs only one route: sober to stupid with no round-trip tickets available, and a strong likelihood of a train wreck along the way."
Wild Irish Rose "The thorn in your hangover is a wild rose from Ireland. Like its brother Cisco, 'Wild I' definitely has some secret additives that go straight to the cranium. Another web page claims that this foul beverage is a conspiracy by the Republicans to kill the homeless."
Thunderbird "If your taste buds are shot, and you need to get trashed with a quickness, then 'T-bird' is the drink for you. Or, if you like to smell your hand after pumping gas, look no further than Thunderbird."
Send a letter to the editor about this story.