July 4-10, 2007
home | metro silicon valley index | silicon valley restaurants | review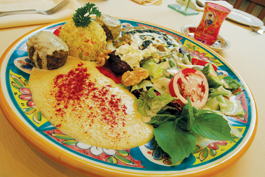 Photograph by Felipe Buitrago
Flavor Tour: The Middle Eastern platter at Chelokebabi offers a sampling of Persian cuisine.
Persian Excursion
A quick road trip around the valley reveals the presence of Persian restaurants in our midst
By Stett Holbrook
I CAN'T SAY WHY, but Persian food seems to fly under the radar in Silicon Valley. In a region with such culinary diversity, some cuisines are sure to be more popular than others, but the Persian restaurants here are almost like secrets. But I'm going to spill the beans.
Persian food is easy to love. There are no scary ingredients to get used to (although pronouncing the names of some dishes is challenging); it's not spicy; and except for a few greenish stews, it's good-looking food, too. And it can be quite delicious. But Persian food is not Middle Eastern food. It's similar, but culturally and historically distinct.
Like virtually all of Silicon Valley's regional cuisines, Persian food is here because people had it bad and fled to the South Bay for a better life. If there's an upside to war, revolution, poverty and other social ills that send immigrants here, it's the food. I'm not just being glib. While Bush's immigration plan went down in flames last week, I say immigration makes this country stronger. We just have to figure out a more orderly way to go about it. But I digress.
After Iran's Islamic revolution, many well-to-do and moderate Iranians fled the country's oppressive Islamic state and headed to the United States and Europe. Most Iranian immigrants in the United States settled in Los Angeles, but a smaller number moved to Silicon Valley. A few opened restaurants, and our food scene is the better for it.
The most recognizable Persian dish is the kebab. Be they lamb, beef or chicken, kebabs are the hamburgers of Persian food. Served on a mound of fluffy steamed rice the size of a sand dune, the kebab is the star of Persian cuisine. Ask for a recommendation at any Persian restaurant, and you will inevitably be steered toward the kebabs.
The koobideh kebab ($7.95) at Campbell's Deezi Cafe was the best I had at the four restaurants I sampled. Made from garlicky, boldly seasoned ground beef that's been threaded onto a flat metal skewer, the meat is beautifully charred and flavorful. In the mouth, the kebab is springy and offers slight resistance until it bursts with meaty juices.
If a restaurant is willing to name itself after one of its dishes I'll give it a try. Deezi's namesake ($9.95) is a hearty stew of lamb shank, beans, tomatoes and herbs. The stew arrives in a squat vessel, and the waiter pours off the broth into another bowl before pounding and mashing the stew with a wooden pestle. When he's done, you eat the coarse paste with slices of taftoon, the lavashlike bread that is served at all Persian restaurants. It's quite good.
Less good, however, was the ghormeh sabzi ($8.95), a classic, dark green Persian stew made with puréed parsley, cilantro, kidney beans and chunks of beef. Deezi's version tasted like it had sat around too long.
Reyhan restaurant is located in the most unlikely of areas—an industrial strip of Almaden Road in south San Jose. As such, the place is kind of an oasis—an oasis of kebabs. As one of the few (only?) dining options around, Reyhan caters to hungry mechanics and machinists with its kebabs and kebab wraps. The grilled thigh meat in the chicken wrap ($9) was good and rolled up with onions, parsley and cilantro in warm taftoon, but the wrap cried out for a drizzle of yogurt or hummus, something to lubricate it and tie all the elements together. Without it, it was too dry.
A better bet is the restaurant's ghormeh sabzi ($8.95), an excellent version of the dish that's suffused with the salty, sour, slightly funky flavor of dried lime, one of the most distinctive ingredients in Persian food.
In addition to kebabs, Persian restaurants often run daily specials from a list of Persian classics, usually a stew or rice-based dish. One of my favorites is fesenjan, a rich stew of braised chicken in a sauce of puréed walnuts and pomegranates. I always seem to come on the night it is not being served, but at Saffron in San Jose it's always on the menu ($9.95).
I thought for sure I wouldn't finish the heaping serving, but I did. The tang of the pomegranates cuts the richness of the walnuts and tender chicken. The rice served with it is enough to feed a family of 10. What's with Persian restaurants and the wanton use of rice? Does anyone ever eat it all?
Kaske bademjan, a roasted eggplant dish reminiscent of babaghanouj, is a classic Persian appetizer, and it's great at Saffron. The smoky eggplant ($4.95) is puréed with onions and topped with a dark-green pool of dried and fried mint. The mint, coupled with a little cream and chopped walnuts, makes this an intriguing, delicious starter.
The best meal on my Persian culinary excursion was at Sunnyvale's Chelokebabi. Set in a drab minimall (if I had buck for every time I've written that line), the dining room is surprisingly serene and elegant. Once you're seated, go straight for the baghali ghatogh ($6.50), a fantastic appetizer I haven't encountered anywhere else. Made from delicate but rich baby lima beans, scrambled eggs and lots of garlic, it's a sultry, buttery dish I couldn't get enough of.
Next up was ghaymeh ($10.95), a daily special made from tender chunks of beef, split peas, eggplant and tomato sauce. The beef here was just an accent for the split peas and superbly silky roasted eggplant. This is the best version of the dish I've ever had.
For a restaurant that aspires to fine dining with its tuxedo-wearing servers and posh interior, the service at Chelokebabi was quite bad. On one visit, my entree arrived when I was halfway through my appetizer. When I failed to yield and make room, the server said she'd keep my entree warm. On another visit, dirty appetizer plates sat uncollected, and when the entrees arrived, the waiter held our dinner plates aloft until we cleared space for a landing amid the clutter. And when I asked for a to-go box for (what else?) all that rice and a few other morsels, the waiter plopped a Styrofoam box in front of me. That's OK at a cheaper restaurant, but at a nice sit-down place they should take the food away and box it up.
Given that the restaurant's name translates as "rice and kebab," I expected great things from the koobideh kebab ($9.50). Instead, it was flabby and unevenly grilled and lacked that taut exterior, juicy interior that I love. But the fluffy rice was good. And I had plenty left over.
---
Chelokebabi
Address: 1236 Wolfe Road, Sunnyvale.
Phone: 408.737.1222.
Hours: Daily 11am–10pm.
Cuisine: Persian.
Price Range: $9.50–$29.95
---
Deezi Cafe
Address: 1740 S. Winchester Blvd., Campbell.
Phone: 408.379.1126.
Hours: 11am–10:30pm Mon–Thu, 11:30am–11pm Fri–Sat and 11:30am–9pm Sun.
Cuisine: Persian.
Price Range: $8.95–$24.95.
---
Reyhan
Address: 1625 Almaden Road, San Jose.
Phone: 408.293.3600.
Hours: Daily 11am–8pm.
Cuisine: Persian.
Price Range: $8–$26.95.
---
Saffron
Address: 1392 S. Bascom Ave., San Jose.
Phone: 408.998.0122.
Hours: 11am–9pm Mon–Sat, 11am–8:30pm Sun.
Cuisine: Persian.
Price Range: $9.95–$29.95.
Send a letter to the editor about this story.