July 4-10, 2007
home | metro silicon valley index | movies | current reviews | film review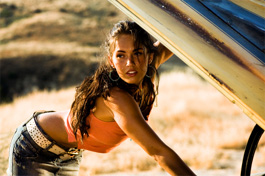 Photograph by Robert Zuckerman
Girl in the hood: Megan Fox tinkers with her ride while 'Transformers' wait to attack in Michael Bay's action spectacular, now playing valleywide.
Robot Hell
Michael Bay's 'Transformers' changes nothing
By Richard von Busack
IN THE PRESS NOTES for Transformers, Shia LaBeouf says some people hate director Michael Bay: "He's not Elia Kazan." No, actually, Bay is more like the bully on The Simpsons who can't even tell if he's being ironic anymore. How can he churn out his chrome-plated penis operas while acknowledging the 30 percent approval rate for our policy of taking names and kicking asses? By celebrating Our Boys, that's how. No one can shoot an Army commercial like Bay. Here we see the usual battle-hardened stereotypes: the Hispanic gabbling in his foreign tongue; the specs-wearing Bostonian who can't wait to get back to "Fenway Pahk." These soldiers gather at a Qatar airbase, where they have gone to be given water by Gunga Din's great-grandson. After a giant robot turns up and kills everybody, the surviving lost patrol members are cornered by a colossal robot scorpion. This would have been the highlight if Bay had shot it so that we could actually see it; as always, his patented 360-degree pan shows you everything and still keeps you in the dark.
Leaving our boys in the stinking desert, Bay cuts to Pasadena dweeb Sam Witwicky (LaBoeuf), who is busily grade-grubbing. Having scammed an A-, the little pischer is gifted with a bitchin' Camaro, which is actually a you-know-what in disguise. Bernie Mac, unfunny in a way that would have never seemed possible in a universe without Michael Bay, sells it to him. Having the car, Sam plans to land Mikaela, played by Megan Fox, whose midriff is so shiny and toned, you keep expecting her to twist herself into a 'bot. In Sam's possession is a family heirloom, sought by Autobots, Decepticons and the shadow government.
Who's in charge here? We see the actor playing POTUS, doing a wacky W imitation, lolling and asking for Ding Dongs. It's the secretary of defense who gets to stare at the computer screen and bark. And he's played by Jon Voight, using Donald Rumsfeld's corncob-pipe accent: "We're on a hair trigger, people—we're going to Def Con Delta!" The actual robot clashes aren't much more pulse-pounding than that; the finale consists of grainy animation of the warriors slamming into the 1920s architecture on L.A.'s Broadway, the few Southern California buildings you hate to see get wrecked.
People claim that these 20-year-old toys have personality, but it's not much on display here. This is the film of the future, in the sense that a Hummer 2, a Pontiac Solstice and a Lockheed Martin F-22 are essentially listed as cast members. In battle, the robots say things that make the recorded threats in twitch-games sound like Henry V: the villain Megatron (voiced by Hugo Weaving) snarls at his rival Optimus Prime: "You still fight for the weak! That's why you lose!" Fighting for the weak is one way of describing the challenge of Bay-style spectacles, instead of ignoring them like they deserve to be ignored. Do they even have a text? "This is better than Armageddon!" shouts a fool watching his neighborhood getting whacked. The slow, lazy arc of a robot-meteor knocking a hole through Dodger Stadium shows both the extreme technical skill of the animators and the total lack of feeling with which they use their art. It's like they gave a supercomputer to a pig.

Transformers (PG-13; 144 min.), directed by Michael Bay, written by Roberto Orci, Alex Kurtzman and John Rogers, photographed by Mitchell Amundsen, and starring Shia LaBeouf and Megan Fox, plays valleywide.
Send a letter to the editor about this story.