July 5-11, 2006
home | metro silicon valley index | music & nightlife | band review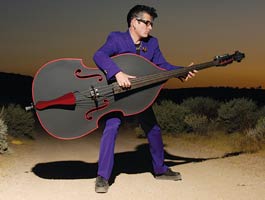 Photograph by Alex Solca
Rock This Town: Lee Rocker plays the coolest thing to hit Fremont since Baylands Raceway.
Mash It
Greasers and gearheads converge on Fremont for Blue Jean Bop
By Todd Inoue
WHO WOULD hold a classic car show during a gasoline crisis? It sounds crazy—like holding a foie gras festival if geese were approaching extinction—but the organizers of Fremont's Blue Jean Bop event don't appear worried. They're expecting 400 classic American automobiles to roll past the former NUMMI auto plant on 880 on their way to Fremont. They also expect double the attendance of the inaugural car show and Americana/roots rock concert that organizers say drew 1,200 people last year.
"Gas prices are ridiculous, but I think they'll want to gas up, shine up and show off," says Blue Jean Bop organizer Tanoa Stewart.
Patterned after the Hootenanny and Viva Las Vegas classic car shows and concerts, the Blue Jean Bop gathers numerous tribes: the Americana, rockabilly and jump-swing fans; the classic roadster clique; the Bettie Page dames and James Dean greasers; the suburban car tinkerers. Set them around an open hood or Western swing band, pop a beer and connections are made.
The idea of Blue Jean Bop germinated two years ago when Stewart and Johnny Lee would see each other at different roots-rock functions. They bounced the idea around of a car show and concert, and in December 2004, they committed to the project and pulled it off in three months. Lee—a swing dancer and financial consultant—got the permits and Saddle Rack venue locked. Stewart handled the music and press. The duo snared Bruno Gonzalez and Mike Cancilla to organize the car show.
Dubbed Blue Jean Bop, the show—held in March 2005—was a success. Hundreds came out to admire the pre-'65 cruisers at the Saddle Rack parking lot and swing along to big-name talent Stompy Jones, Johnny Dilks and the Visitacion Valley Boys, Deke Dickerson and the Ecco-Fonics and Big Sandy and the Lonely Blue Boys.
For 2006, Blue Jean Bop expands nicely. They booked twice the number of bands, including headliner Stray Cats bassist Lee Rocker and the Hacienda Brothers. They added awards categories to the car show—including "Diamond in the Rough" and "Best Primer." The pinup girl contest will feature more prizes, and the festival's donation to Girls Inc.—a nonprofit that offers academic, skills and counseling services to young Alameda County girls—will be larger.
Though some classic-car culture events are stereotyped as magnets for roughnecks, Blue Jean Bop is firmly focused on the mainstream. The day show is all-ages, and its concerts embrace the roots: Americana, classic country, jump swing, rockabilly.
Sticking with the format allows for a wider variety of visitors. "We wanted to bring a lot of factions of people," says Stewart. "Using the terms 'roots music' works every time." Placing the show in Fremont also lends to the unstuffy feel. "It works because it's easy to park out there, and it's centrally located between the city and suburbs. People in the suburbs work on their cars in their garages, too."
The music lineup lures many of the genre's big names. Lee Rocker, Vicky Tafoya and the Big Beat and Deke Dickerson play the indoor concert beginning at 8pm. The Hacienda Brothers, Carl Sonny Leyland, Johnny Dilks and His Country Soul Brothers, Stompy Jones, Cari Lee & the Saddle-ites and the 1/4 Mile Combo play outdoors. Dickerson does double shift and plays outdoors and indoors.
Some may laugh at the incongruity: a classic car show and rockabilly concert in Fremont? The town isn't new to speed freak culture; Baylands Raceway was a refuge where souped-up roadsters and outlaw sprint cars came to kick up dirt for decades (Jeff Gordon famously raced go-carts there in the early '80s). Though Fremont doesn't have the hipster cache of Las Vegas, Blue Jean Bop is a cool event for a city that doesn't get a lot of respect.
Blue Jean Bop happens Sunday, July 9, at the Saddle Rack, 42011 Boscell Road, Fremont. The outdoor car show and barbecue happens from noon to 7pm, and the indoor live music and pinup contest happens from 7:30pm to midnight. Tickets are $20. More information at www.bluejeanbop.com.
Send a letter to the editor about this story.