July 5-11, 2006
home | metro silicon valley index | the arts | stage | review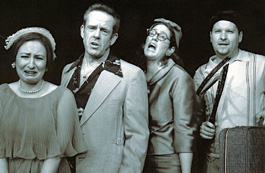 Photograph by Dana Glover
Simonized: The residents of 'California Suite' are (from left) Tom Baxley, Susannah Greenwood and Michael Pease.
Suites For the Not-so-Sweet
Northside Theatre checks into Neil Simon's 'California Suite'
By Marianne Messina
THE FOUR SHORT PLAYS that make up California Suite start at the height of verbal repartee and degenerate into brawling slapstick. In the Northside Theatre Company production, two pairs of actors play the various couples who pass through a Beverly Hills Hotel suite. Under four different directors, each play reveals a snapshot of an ongoing relationship viewed through some kind of crisis or turning point, with histories neatly packed in. As the plays move on, they become progressively less dense, the histories thinner.
A sophisticated divorced couple argue over which parent should keep their 17-year-old daughter in the opener, "Visitors From New York" (directed by Meredith King). The verbal sparring between Hannah (Susannah Greenwood) and Billy (Tom Baxley) is grueling and hilarious—everything's fair game for Hannah's mordent wit. She drags in the East-West rivalry to snipe at her California transplant husband—"a 45-year-old Billy." Complaining of a Moroccan villa that "turned out to be a Texaco gas station" and the need for valet parking to pick up a bagel, Hannah soon reveals that she fears more than geographical separation from her alfalfa-eating daughter. Greenwood can drop vulnerability into her sardonic wit without pausing a beat, and Simon is at his best here, understating—these two know each other intimately enough to need few declarations—yet speaking on several levels. Baxley's grin and laid-back manner make it easy to see both the middle-aged kid and the worthy opponent Hannah derides.
The second short play, "Visitors From London" (director Laura Long), also takes cultural pot shots, this time at the whole of American culture by way of Hollywood. British, Oscar-nominated ("for a nauseating little comedy") actress Diana (Wanda Reimer) drives her husband, Sidney (Michael L. Pease), crazy with her insecurities just before the awards ceremonies. Reimer is perfectly charming as the actress, displaying her self-consciousness in off-handed swipes: her dress ("this chiffon tent") has "a hump"; "I look like Richard the III."
Where the first short play tightly focuses the action in the sitting room, Diana and Sidney race back and forth between the rooms in her panic and their preparations. Richard T. Orlando has divided his two-room set design by an invisible "fifth wall" for actors and audience to ignore. But interestingly, imagination quickly fills in that wall, even as people call back and forth between rooms. Four exit doors plus a window (for dispatching a sleeping hooker's Victoria's Secrets) provide the second half of California Suite with plenty of entrances and exits for gags and slapstick.
In "Visitors From Philadelphia" (directed by Seth Kane) Marvin (Baxley) wakes up "the morning after" to find a passed-out call girl in his bed (Lorie Goulart), and then his wife (Greenwood) arrives. The play starts out hilarious as Marvin tries to "dispose" of the sleeping hooker—a perfectly limp and racy Goulart, whose body parts fall in all the right places—but then it somewhat experimentally turns poignant (actually maudlin) and trails off in dire need of a punch line. And in "Visitors From Chicago," two couples at the end of their vacation together (are they swingers?—just the one bed after all), go at each other's throats. After a series of bangings and bruisings, three people hobbling, hopping or tottering around the two-room suite create a very funny visual effect. Both Simon's script and Northside's pacing seem to suggest that California Suite has its heart in the first two plays, but the progression from dense to light is well tailored for tired minds and for allowing actors to duly end the evening after their most physically demanding stage work.
California Suite, a Northside Theatre Company production, plays Thursday-Saturday at 8pm and Sunday at 3pm through July 16 at Northside Theatre, 848 E. William St., San Jose. Tickets are $12-$15. (408.288.7820)
Send a letter to the editor about this story.