July 5-11, 2006
home | metro silicon valley index | silicon valley restaurants | review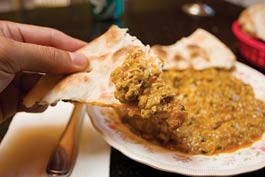 Photograph by Felipe Buitrago
Not Just For Zombies: Among Shalimar's most unusual offerings is its brain masala.
Shalimar Solution
Silicon Valley's domination in the Asian cuisine arena is now sealed
By Stett Holbrook
POUND for pound, I think Silicon Valley tops San Francisco when it comes to good South Asian food. We've got both quantity and quality. Up until now, the only thing that the South Bay lacked was a Shalimar restaurant to call its own.
This scruffy temple of Indian and Pakistani gastronomy has two locations in San Francisco and one in Fremont. They're cheap, no-frills restaurants beloved for their uncommonly delicious food. But now (drum roll, please) Shalimar has opened a restaurant in Sunnyvale. Silicon Valley's domination is complete.
Shalimar opened about three months ago, and crowds quickly followed. The restaurant joins the already dense field of Indian and Pakistani restaurants along El Camino Real. (Note: There is a Shalimar in San Jose, but it's not affiliated with this restaurant.)
First-time visits can be a little disorienting, especially given the crowds that bunch up in front of the counter. Walk up to the counter, grab a menu and wait your turn to place your order. Service is brusque but efficient. The cashier will give you a number and then you find an empty table in the often noisy dining room. While you're waiting, try the good (and free) chai available in Styrofoam cups to the left of the counter. You pay the cashier (cash only) when you're done.
The restaurant itself is rather quirky. Framed photos of Bollywood stars hang on the walls, walls that are painted mango yellow with candy-corn-orange trim. The high ceiling and exposed beams of the front dining area make it feel a like a barn. The restaurant is popular with Silicon Valley's South Asian population and the white friends they take with them. Every other person seems to have a photo ID badge dangling from their shirt, the mark of a tech worker out for lunch.
Shalimar's menu is printed on newsprint and mimics a newspaper, calling itself the Shalimar Times with headlines like "The Shalimar secret" and "A good meal begins with a great recipe." Not including the specials, there are nearly three dozen items to choose from.
Over the course of three visits, I didn't encounter a single dud. As an Indian-Pakistani restaurant, the food is somewhat richer and heavier than southern Indian food. There's also beef on the menu, something you won't find from the Hindu south. All the meat is halal, meaning it's slaughtered according to Islamic law.
One of my favorite dishes was the plain-looking haleem ($6), a lentil and barley stew available with chicken or beef. I tried the beef. It was hard to detect visually, but flavorwise the rich beefy flavor was there. The pale green stew is creamy and rich and then gives way to a warming, creeping spiciness that's lightened by the matchstick-size pieces of fresh ginger and cilantro on top. The dish has the consistency of baby food but is infinitely more delicious and complex. Try this dish with a squirt of lemon juice from the squeeze bottles available at the counter.
Nihari ($6) is often eaten for breakfast, but at Shalimar the beef shank stew made for a perfect lunch. The collagen-rich shank makes a particularly rich, gravylike sauce that's enlivened with fresh ginger. Like many dishes at Shalimar, it's spicy but the heat is well balanced with other flavors.
Chicken karahi ($6.95) was another one of my favorites. This sultry northwest Indian dish is filled with chicken thigh meat in a rich, tomato-enlivened, currylike sauce. It's a bit salty but the aromatic spices and herbs round it out.
Shalimar's tandoori dishes are particularly good. The tandoori lamb chop ($9.95) is beautifully charred and yet still moist inside. The murgh tikka lahori ($3.50) is a reddish-orange-tinted chicken leg blistered in spots from the oven and filled with a juicy, saliva-inducing tang.
My favorite vegetarian dish was mili juli sabzi ($4.95), a delicate stew made from peas, peppers, carrots, pots, cauliflower and tomatoes, accented with whole cardamom pods, curry leaves, black mustard seeds and other spices. Coming in a close second was bengen bhula ($4.95), a silken, spicy eggplant stew made with onion and tomatoes and spikes of whole cloves. It too packs sneaky heat.
And you must order naan, lots of it. Garlic naan ($2) arrives steaming hot and smeared with a ton of garlic inside. Onion kulcha ($2) is just as good and stuffed with sautéed onions and butter. The regular naan ($1) started out soft and chewy but quickly lost its suppleness as it cooled. Best to eat it quickly.
I was too full to order many desserts but I did manage to down a banarsi kheer ($2) on one visit, a good cardamom and clove-flavored rice pudding. But I wasn't too full to plot my next visit to the latest of many great Silicon Valley South Asian restaurants. In your face, San Francisco!
---
Shalimar
Address: 1146 W. El Camino Real, Sunnyvale.
Phone: 408.530.0300.
Hours: 11:30am-2:30pm and 5:30-10:30pm Mon-Fri and 12:30-3:30pm and 5:30-11pm Sat-Sun.
Cuisine: Indian and Pakistani.
Price Range: $2.50-$16.95 (cash only).
Send a letter to the editor about this story.