July 5-11, 2006
home | metro silicon valley index | the arts | stage | review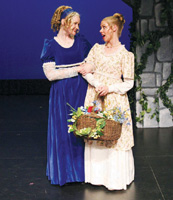 Photograph by Holly Cornelison
Miss Manners: Miss Emma Woodhouse (Amy Cornelison) dispenses some marriage advice to her friend Miss Harriet Smith (Sarah Jessica Rhodes) in California Theatre Center's 'Emma.'
Austen Power
CTC is well-suited to task of finding a suitor for Miss Smith in 'Emma' adaptation
By Marianne Messina
CALIFORNIA Theatre Center's Emma, adapted from the Jane Austen novel by company powerhouse Amy Cornelison, who also plays the title role, shows probably one of the most meddlesome and officious Emmas yet—also one of the most humorous. In her gold ringlets and her blue-velvet, floor-length, Empire-waisted dress, this Emma has no shortage of the usual intelligence, charm and style. But as the butler and maid announce in their opening narration, she behaves like someone with an overindulgent father and has "a disposition to think a little too well of herself." She shows this quality at the first of many social gatherings in the play by interrupting her father, Henry Woodhouse (Will Huddleston), as he speaks and hurrying him off—"Come along, Papa, we should be getting you home."
When Emma hears of Miss Harriet Smith's (Sarah Jessica Rhodes) suitor, Mr. Robert Martin (Scott McGee), she dismisses Martin as a mere farmer—"His person has no other advantage." And throughout the play, Emma proceeds to try to match Miss Smith up with a list of gentlemen who, according to Emma's good friend Mr. Knightly (Jeremy D. Smith), are far beyond the girl's reach.
Though Emma and Knightly both show the class biases of the day, Knightly's language is far more delicate. Their heated discussion of the issue peaks when the feisty Emma fixes Mr. Knightly at his tea, roughly rattling a spoon around in his cup until she finally drops it clattering to the saucer. The agreeable Mr. Knightly takes it up and, without pausing in his argument, lifts the cup and shakes the saucer off onto the table. The well-oiled company dashes off this detail-oriented stage biz with enjoyable nonchalance.
Coming from Austen's very thick novel with at least half a town of characters—who must end up paired off neatly by play's end—the play must establish a lot of cumbersome background and entangling alliances straight off. CTC uses a combination of explanations, one character to another, and asides to the audience, spoken by characters suspended in time under a spotlight. Even after reducing characters like Papa (a lively, engaging performance by Huddleston) to their most egregious characteristics—Papa's enmity for marriage ("the scourge" that breaks up families) and his preachings on healthy living—it's hard to take it all in.
But the action is rich (there are often three clusters of people onstage at a time), and the timing quick (each cluster converses for a brief spotlight moment, then fades into the background). In one scene, Harriet Smith retells a chance meeting with Mr. Martin; the narration becomes illustrated—half-then, half-now as Martin appears onstage to enact her words—and finally the scene slips into full flashback.
Between scenes, various "butlers" and "maids" briskly move the stage pieces on and off the simple set, which consists of three large arched windows set into a back wall of three stone panels. As we go from ballroom to living room, the middle window is replaced by a panel that turns it into a hearthside. In this quick-paced, humorous production, social questions take a back seat, and even the lead couple feel more comedic than romantic as their lively banter overpowers the tension.
Still, the ending kiss feels natural and earned—despite a few gasps across the audience, either from Austen purists (Austen avoided kisses) or from parents familiar with CTC's school-year incarnation, as a company enacting fairy tales in elementary schools. CTC does grow up a bit in the summertime—Emma runs in repertory with You're a Good Man, Charlie Brown and The Complete Works of William Shakespeare (abridged)—but it seems to maintain a sharp, all-ages clarity.
Emma, a California Theatre Center production, plays July 6, 13-14 and 21 at 8pm and July 16 at 2pm at the Sunnyvale Community Center Theatre, 550 E. Remington Dr., Sunnyvale. Tickets are $21-$25. (408.720.0873; see www.ctcinc.org for complete rep schedule)
Send a letter to the editor about this story.