July 5-11, 2006
home | metro silicon valley index | columns | silicon veggie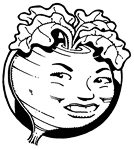 Silicon Veggie
VBBQ
By Elisa Camahort
AH, YES, summertime. Time for the beach, baseball and every vegetarian's summer favorite: barbecue. Well, maybe not favorite. More like another example of vegetarians watching as their carnivorous friends load up on goodies, while we eat chips and dip. People who, at any other time, would ensure they were serving well-rounded meals with green vegetables and even a salad, suddenly revert to cave-people thinking only of platters of meat—with maybe some potato salad as a chaser.
You might think that veggie burgers or hot dogs were the best barbecue alternative; my experience is that the burgers fall apart with more than one flip of the spatula, and that most veggie hot dogs get mushy and stick to the grill.
Vegetarians can definitely get in on the grilling game. Here are my favorite barbecue options. If you're hosting a barbecue this summer, think of the veggies in your midst and offer these. If you're a vegetarian on your way to a barbecue, do yourself a favor and bring these along.
The primo veggie barbecue food, in my opinion, is the portobello mushroom. Just as fun to eat on a bun as any veggie burger, but a little more likely to hold up to being grilled. With a meaty taste and texture, the portobello mushroom is perfect barbecue fare. The issue of the grill itself may come up. There are three ways to handle it:
1. You can handle the portobello being thrown on the grill along with burgers and chicken and all other meaty fare. Obviously this is the easiest route for all concerned.
2. You don't mind the mushroom touching the grill, but would like it to be cooked before any meat goes on. You need to give a host fair warning if this is your requirement, and you'll be eating before anyone else comes close.
3. My preferred method: wrap the mushroom in foil, along with some garlic and other spices, and cook wherever and whenever it's convenient.
If you're not a mushroom fan, then just about any vegetables can be grilled a la method No. 3 above. Summer squashes, onions, peppers, eggplant—they all work well. Corn is another great vegetable to grill—again, wrapped in foil if you're sensitive to it touching the grill.
The summertime ritual of standing in line by the grill waiting for something hot and smoky to be dumped on your plate can still be yours—without giving you literal or figurative heartburn!
Send a letter to the editor about this story.