07.08.09
home | metro silicon valley index | columns | silicon alleys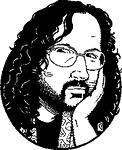 Silicon Alleys
Giger Harvest
By Gary Singh
WORLD TRAVEL is about continuous personal transformation, so before a recent trip to Switzerland, I checked out a copy of Richard and Iona Miller's The Modern Alchemist: A Guide to Personal Transformation from the main library here in San Jose before heading to Europe. Unlike most people, when I contemplate Switzerland, I don't think of army knives, watches or secret bank accounts. I think of Swiss psychologist Carl Jung writing about alchemy—transmuting base metals into gold as a metaphor for personal and psychological transformation.
As a result, I was especially transformed when I crept into the H.R. Giger Museum in the medieval village of Gruyères. Giger is the macabre Swiss surrealist best known for designing the creatures in the 1980 film Alien, for which he won an Oscar, but he also creates ghastly airbrush paintings, furniture, sculptures, album covers and graphic designs featuring imagery of violent biomechanical females, Lovecraftian nightmarescapes and erotic-occult-fantasy transmogrifications of the most intuitive sort. He says he paints whatever scares him.
Gruyères itself is a place that exists almost entirely for tourists, as thousands are regularly bussed in for the famous castle and cheese of the same name. Over time, Giger fell in love with the area, calling it a "beautiful cheek of Switzerland." In 1998, to the explosive annoyance of the locals, Giger acquired an old stone fortress, the Château St. Germain, and converted it into a permanent three-story museum of his work. Commendably, the place is staffed by Swiss goth hotties.
"When people go to Gruyères, they usually come for the castle and the cheese factory," explains my tour guide, with an angelic French accent. "Then they come in here and they get disgusted."
As we move through the museum, she provides a few stock details about Giger's life: His birth was unusually long and traumatic, with the doctor needing forceps to get him out of the womb; detractors blamed him for his first wife's depression and suicide; and as a teenager, he set his dad's pharmacy on fire by trying to melt lead. (Read: alchemy, transformation.)
We eventually arrive at a room with huge airbrushes of The Spell, I, II, III and IV—one on each wall. Spell III includes Giger's version of the Baphomet symbol at its center, complete with the Caduceus—the two snakes coiling into a figure 8 around a shaft. Baphomet and the snakes represent male and female energy or dark/light polarity.
Minutes later, she points out another famous Giger painting, Anima Mia, an otherwordly nightmarescape of flowing interconnected biomechanoids. Mia was Giger's second wife, and inspiration while he created this particular work. The title is a play on words: Anima means "soul" and is also a Jungian concept representing the unconscious feminine aspect of the male psyche. By sheer synchronicity—a Jungian term—I had just finished Chapter 3 of The Modern Alchemist, titled "Anima," while on the airplane. My own inner feminine slowly began to emerge.
Jung also provided some of the foundation for the mythopoetic "Wild Man" men's movement, that which tries to recapture of the fierceness of masculinity. By another synchronicity, I stayed at the Hotel Wilden Mann (Wild Man) while in Lucerne. Imagery of the Wild Man figure, the mystical savage, is intertwined with that city's history, and he is the symbol of untamed strength and resistance to all conventions. In the hotel, numerous mystical and symbolic medieval drawings, including Tarot cards, grace the walls of the salon, although most won't notice.
At journey's end, in Giger's hometown of Chur, I stood right in front of the building where he grew up, in a flat above his dad's pharmacy. It now boasts a bright yellow facade with a women's cosmetic shop on the ground level—the closing irony of it all, I suppose. In any event, after that trip I am personally transformed. To Giger, Jung and the San Jose Main Library, I say, Tausend Dank!
Contact Gary Singh or send a letter to the editor about this story.