07.08.09
home | metro silicon valley index | the arts | stage | review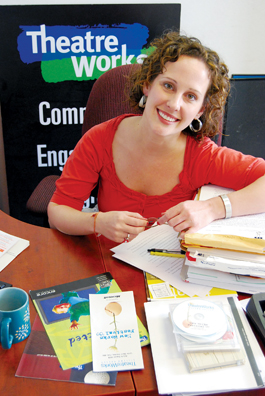 Photograph by Carla Befra
HARD AT WORK: Meredith McDonough makes her debut at the helm of TheatreWorks' New Works festival this year.
Testing the Waters
TheatreWorks' New Works Festival showcases dramas and musicals in their formative stages
By Jessica Fromm
THAT'S WHAT I love about working here," says Meredith McDonough about TheatreWorks' New Works Festival. "If it's a story and a piece that we believe in, we will figure out how to bring that to our stage. We will develop it, and we are going to believe that our audience will come because our audience knows and trusts the work that we do."
McDonough, who makes her debut at the helm of the annual summer festival this season, says that the seven plays (six of them staged readings) and two concerts both foster artistic form and move Bay Area theater forward.
One of the new works McDonough is particularly excited about is The Sparrow and the Birdman (Aug. 3 at 7:30pm), a song-filled drama highlighting local cabaret performer Raquel Bitton and directed by Chris Smith. Taking place in 1930s Paris, the play centers on the chance meeting between French songstress Edith Piaf and eccentric filmmaker Jean Cocteau.
"I think is a great way to theatricalize what Rachel is already so gifted at, which is this Edith Piaf repertoire, but still making it really story-driven," McDonough says.
TheatreWorks New Works Festival has always embraced the experimental side of performance, which will be seen in the "fever-dream musical" Ernest Shackleton Loves Me (Aug. 8 at 2pm, Aug. 11 at 7:30pm, Aug. 15 at 8pm). Directed by former New Works head Kent Nicholson, this one-women show is a "massive" technological experiment in which actress/violinist Valerie Vigoda performs multiple voices and characters through a computer.
"We are all waiting with baited breath for this one. We have a lot of extension cords set up," says McDonough with a laugh. "It's really looking at the musical theater form in a new way."
McDonough was hired as the director of the New Works Festival in May and moved from New York to Silicon Valley only a few weeks ago. She enjoys the Bay Area regional theater scene's ability to go deeper and be more personal with its audience, something that can be challenging in New York where ticket prices often force writers to broaden a new play's appeal to get more butts in the seats.
"In New York, your audience was whoever you could happen to get in the door and fight for their entertainment dollar," she tells me. "When you work here, you start to get to know your audience and have a conversation with them artistically and literally, over time. I find that much more exciting."
The festival kicks off on July 15 with a fully staged production of the world-premiere country-pop musical Tinyard Hill (July 15–Aug. 16), and McDonough herself will direct Auctioning the Ainsleys (Aug. 18 at 7:30pm, Aug. 21 at 8pm), a quirky drama about a family of auctioneers.
One new work that is sure to challenge audiences this season is the psychological thriller The North Pool (Aug. 15 at 2pm, Aug. 17 at 7:30pm), an intense character study about racial, cultural and gender profiling by playwright Rajiv Joseph. In its depiction of a cat-and-mouse game between a Saudi Arabian teenager and a white vice-principal, the play confronts political correctness at a suburban American high school.
Among the musicals at this year's festival, Makeover (Aug. 5 at 7:30pm, Aug. 9 at 7pm) is the most traditional production, the story of a feisty 1950s mom who builds a makeup and glamour empire, a la Mary Kay.
The song cycle Tales From the Bad Years (Aug.19 at 7pm, Aug. 22 at 8pm,  Aug. 23 at 7pm) aims to appeal to younger audiences with a narrative about five twentysomethings set to pop tunes.
This year's festival will also present two concerts, performances from Maureen McGovern of The Morning After fame, and Chinese-American singer/songwriter Vienna Teng.
TheatreWorks is celebrating its 40th anniversary season in 2009, and the New Works Festival will take place at Lucie Stern Theatre in Palo Alto for the first time. McDonough credits founding artistic director Robert Kelley for TheatreWorks continuing creation and development of the new plays. "He has kept his artistic mind really open to new ideas, which is how I think you survive 40 years and keep developing new audiences and keep thinking about how to develop new work in really progressive ways," says McDonough.
THE NEW WORKS FESTIVAL, presented by TheatreWorks, runs July 15–Aug. 23 at the Lucie Stern Theatre, 1305 Middlefield Road, Palo Alto. Tickets are $10–$75, call 650.463.1960 or visit www.theatreworks.org.
Send a letter to the editor about this story.