07.01.09
home | metro silicon valley index | silicon valley restaurants | review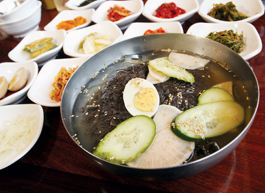 Photograph by Felipe Buitrago
COOL IDEA: At Nor-Blu, refreshing cold noodle soup comes with a variety of toppings.
Using Their Noodles
Three Korean restaurants in Santa Clara beat the heat with cold-noodle treat naeng myun
By Stett Holbrook
WHILE naeng myun is unlikely to displace ice cream, watermelon and barbecue as one of America's favorite hot-weather dishes, the icy Korean noodle soup deserves a seat at the table of great summertime eats.
Naeng myun translates as cold noodles, but the dish is much more than that. It is served year-round in South Korea but is more of a hot-weather specialty for obvious reasons: South Korea gets very hot in the summer, and it's great way to cool down. In case you haven't noticed, it's been plenty hot around here, too, perfect weather for naeng myun, and Santa Clara's unofficial Koreatown along El Camino Real is a great place to sample this one-of-kind noodle soup.
The dish is typically made with a thick tangle of gray or black buckwheat noodles and surrounded by a light and tangy beef broth that is at once savory, sour and thirst quenching. I've also seen the noodles made with arrowroot flour.
While the toppings vary from restaurant to restaurant, they typically include a hardboiled egg and thin slices of lightly pickled daikon radish and cucumber. White vinegar and spicy mustard are offered on the side so you can doctor the soup to your liking.  It's all served in a silver metal bowl that's cold to the touch, a detail that accentuates the noodles' frosty goodness.
I had my first bowl of naeng myun at Corner Place a few years ago. I was intrigued by the description of the noodles on the menu but wasn't prepared for the electric, savory/sour–flavored broth, charcoal-gray noodles and eclectic ingredients like sliced beef, pine nuts and watermelon. I went back last week to see if it was good as I remember. It is. The dish was originally served seasonally, but it's apparently become so popular that it is now on the menu year-round.
For me, it's the broth that really makes the soup stand out. It's like a meat-flavored Gatorade, but in a good way. With the cooling crunch of the radish, cucumber and watermelon, I feel my temperature going down. There are even shards of ice floating in the broth to make a kind of beefy Slurpee.
At Nor-Bu restaurant, a new Korean restaurant that took over the space formerly occupied by Café Dhaka, the specialty of the house is duck, but they also serve a very good naeng myun made with a spicy chile-peanut sauce. It's called cold noodles with spicy sauce ($9.99) on the menu. Spicy food is naturally cooling, so the addition of the fiery chile paste makes the soup doubly so.
The sauce is plenty spicy, but the peanuts and beef broth help round out the heat. Be sure to ask the waitress to cut the inky black noodles. A few snips from scissors make the dense mound of noodles a lot easier to eat. They also serve the noodles without the chile sauce if you don't need the extra firepower.
Nor-Bu also offers one of the most generous assortments of banchan I've seen, nine little dishes of fermented, pickled and fried snacks and condiments to go with your meal.
Chosun Myunoak's three-item banchan is a little stingy, but the restaurant offers a stripped-down, elemental version of naeng myun ($10.99). The tidy restaurant is tucked into the back corner of a mall in the middle of El Camino's Korean restaurant row. The broth lacks the tongue-tickling acidity of Corner Place's naeng myun and leans toward the savory-sweet, but it's still refreshing. The cucumber, radish and egg are more than satisfactory, but the slices of beef were bland and rather tough. I pushed them aside and just focused on the broth bathed noodles.
The meal concludes with a free cup of sikhye, a sweet, thickish broth made by pouring sweetened water into cooked rice. 
It's too late for me to bring bowls of naeng myun to my Fourth of July picnic this year, but I'm considering adding it to the lineup of summertime classics next year right along with the corn on the cob and the burgers.
CORNER PLACE
2783 El Camino Real, Santa Clara
408.249.8990.
NOR-BU
3284 El Camino Real, Santa Clara
408.615.1723.
CHOSUN MYUNOAK
3099 El Camino Real, Santa Clara 408.615.0700.
Send a letter to the editor about this story.