07.08.09
home | metro silicon valley index | movies | current reviews | film review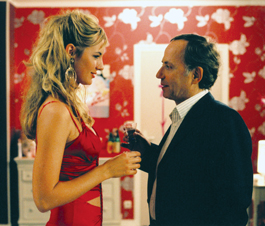 Courtesy Magnolia Pictures
THE LADY IN RED: Louise Bourgoin works her wiles on Fabrice Luchini in 'The Girl From Monaco.'
My Bodyguard
A middle-aged French lawyer falls for a femme fatale in 'The Girl From Monaco'
By Richard von Busack
LATER, after they met, she tells him that it was "karma." The beauty of that mysterious word is that there are all kinds of karma, particularly the bad kind. The Girl From Monaco is equally mysterious. This film is mostly a comedy, but as the characters smile less and less, the funnier it gets. Director Anne Fontaine's film has a certain kinship to Gus Van Sant's To Die For—like Nicole Kidman, Audrey the heroine is TV-celebrity obsessed and thoroughly amoral. It's only at the 40-minute point that something happens that's worth laughing out loud at, and yet this French film is thoroughly amusing—urbane, and ambiguous. Maybe what's different here is seeing a woman's perspective on a Blue Angel type situation, which oddly finds favor with the poor middle-aged fool.
Bertrand Beauvois (Fabrice Luchini) is a Parisian lawyer sent to Monaco to defend a very rich lady (Stéphane Audran) from a charge of murder. The deceased, her boy toy, was from a dubious background. There's a chance there might be payback from the dead man's Russian relations. All this is of no concern to Beauvois, who shows calm concentration even in the swankness of a Monaco courtroom—all carved oak and stained-glass windows. As a precautionary effort against mafia menace, the accused murderess hires an efficient bodyguard to look out for Beauvois. Christophe (Roschdy Zem), who has a strong but apparently not pointed resemblance to Barack Obama, is schooled in Krav Maga and has a Vulcan's coolness.
Beauvois really does need a keeper. A half-bright local TV weather girl named Audrey (Louise Bourgoin) meets Beauvois and insinuates herself into his life. The one hope for the shy, intellectual lawyer is his bodyguard; Christophe isn't intimidated by Audrey, because they once had a little affair. We can't get a bead on Audrey at first, except to predict that she's too good to be true; she's likely a moron, but she's not on the dumb-blonde wavelength. Bourgoin is a long-legged stunner, gliding around half-dressed on a Vespa. Her Audrey is certainly gregarious enough—that's one way of describing someone of easy, thoughtless promiscuity. All this torments Beauvois after he forms a sexual obsession. But Fontaine stresses the dissonance; the film is not quite farce. Audrey's gunslinger style can be off-putting. Her own celebrity obsessions, with Princess Di and Monaco's own Princess Grace, are part of how one learns that she's a climber. The film takes an excursion to see a small marble plaque at a sharp turn in a cliff-side road: "A notre Princesse adorée." This scene turns out to be significant, more than just a sight-seeing jaunt to the site of the martyrdom of Princess Grace. You could call The Girl From Monaco conservative. Beauvois represents the cultural France, gabbling about the time Jean-Paul Sartre met Simone Beauvoir; Audrey is the thoughtless Americanoid hedonist. But the film satirizes the too-intellectual life. After one bout with Audrey, Beauvois ambles downstairs and tells Christophe that he has had a sort of life-changing experience. "You got laid," Christophe suggests. "Exactement!" crows the lawyer, happy to hear le mot juste.

THE GIRL FROM MONACO (R; 95 min.), directed by Anne Fontaine, written by Fontaine and Benoît Graffin, photographed by Patrick Blossier and starring Fabrice Luchini and Louise Bourgoin, opens July 10 at Camera 3 in San Jose.
Send a letter to the editor about this story.