07.08.09
home | metro silicon valley index | movies | current reviews | film review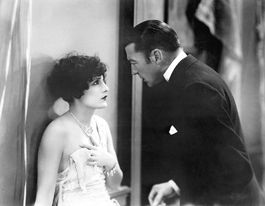 MOLL FLOUNDERS: Eveyln Brent cowers before Clive Brook in von Sternberg's 'Underworld.'
Startup Gangsters
The Silent Film Festival screens Josef von Sternberg's 'Underworld,' a seminal crimeland feature
By Richard von Busack
THERE HAVE been competing claims as to which is the first gangster movie—Raoul Walsh's 1915 Regeneration may be the beginning of a line that leads all the way down to the engrossing but dime-thin Public Enemies. Certainly, a key film about night and the city is Josef von Sternberg's Underworld, playing July 11 at the San Francisco Silent Film Festival (July 10–12).
Underworld is a fast yet touching crime drama written by Ben Hecht. Before going on to be one of the key scriptwriters of the 20th century, Hecht learned about the ways of Chicago crime as a reporter. To call Underworld influential is too mild a phrase; later directors absolutely fleeced it. (Howard Hawks himself took situations and characters from it for his Western Rio Bravo, even naming Angie Dickinson's Feathers after Evelyn Brent's moll.) The sign that thug Bull Weed admires in neon, "The City Is Yours," turns up inflated in both versions of Scarface, too. It could be said that Hawks' version of Scarface begins pretty much on the morning when Underworld's set piece ends, at a confetti-and-streamers-choked Criminal's Ball.
Hecht had known North Side mobster Dion O'Banion well enough to include a bit about the criminal Buck Mulligan's flower shop; a florist business was both front and vocation for O'Banion. And just as we see Mulligan doing, O'Banion made up wreaths for the coffins of his colleagues. But Hecht had no patience with this film and sued to take his name off it. Despite the guns and the slang ("C'mon, let's drift," says the bored Feathers), Underworld is ultimately a von Sternberg joint. This peerless director of romances takes Brent and makes a Dietrich out of her, an ivory-faced mockeuse, floating in the shadows, heralded by an alley cat striding into a saloon.
Feathers is the girl of the hulking but sweet criminal Bull Weed (George Bancroft), a barbarian strong enough to bend a coin in his fingers. Weed is witnessed after a bank burglary by a street alcoholic (Clive Brook, an older, wearier Edward Norton); the drunk promises to be as "silent as a Rolls Royce" about the crime. Thus Weed makes this "Rolls Royce" his mascot.
Feathers takes an interest in the reformed drunk, who turns out to be a lawyer when he's sober. Later, Bull gets jailed for protecting Feathers from a rapacious Buck Mulligan. (Incidentally, it's just like Hecht to name a character after the then-banned book Ulysses.) A love triangle blooms with the figures caught between love and duty.
Although Underworld isn't as visually slick or as percussive as Public Enemies, it has far more emotional ground and feeling. And it has a pace, too—note the arrest, sentencing and jailing of Bull Weed in just a few fast scenes. Underworld is co-presented by Eddie Muller's Film Noir Foundation. One can see why: the nocturnal, shadow-heavy photography by Stanford alumni Bert Glennon (Crime Wave, The Red House) predicates decades of underworld films to come.
One of the standouts at this year's fest is D. W. Griffith's Lady of the Pavements (July 12). Seeing it, one thinks that the great innovator was trying to invent a musical—pianist Donald Sosin and singer Joanna Seaton will re-create the musical numbers live, meaning that someone had to comb the archives to find the lyrics to "You Tickle Me, I'll Tickle You." Since Griffith is tagged as a Victorian talent, it's interesting seeing him work with the kind of spicy material that Mamoulian and Lubitsch would popularize later.
Lady of the Pavements is a Parisian story of a singer (Lupe Velez) at Le Chien Qui Fume cabaret; she is hired and made over as the convent-reared "Nanon del Rayon" in order to seduce a half-bright German baron (William Boyd). The villainess responsible for the plot is a proud and high-haired countess (Jetta Goudal); the knowledge of looming war between the French and the Germans makes the frippery pungent.
Griffith's conception of the passing of time is different from that of his more efficient contemporaries in 1929—he holds moments longer but wrings more feeling out of the scenes. Amid the moments of this beguiling creampuff is some fascinating camerawork—such as a long descending shot into the winking eye of a mechanical sign for the cabaret, or a dreamy night trip on a love barge that seems to forecast L'Atalante.
The Mexican comic actress Velez shows why she had enough charm to last 15 years in the movies in the festival's opener, 1927's The Gaucho (July 10). Douglas Fairbanks plays a rough bandit who turns avenger to unseat a villainous general who is exploiting a religious shrine of the Madonna. Fairbanks reputedly got the idea for the movie after a visit to Lourdes. Mrs. Fairbanks, Mary Pickford, makes a surprise appearance in that one role every ex–Catholic schoolgirl longs to play. The religious kitsch is charming enough, but the draw is our first action hero, Fairbanks, wielding a bolo, cracking the whip over the horses and gliding through a smoky tango with Velez.
Other highlights include the early Soviet science-fiction classic Aelita, Queen of Mars (1924; shows July 11), with Dennis James at the Wurlitzer; the Czech melodrama Erotikon (1929; July 12), which has plenty of steam in it, both in the love scene and in the thundering choo-choos symbolizing passion; and Bardelys the Magnificent (1926; July 11), a King Vidor swashbuckler starring John Gilbert. Terry Zwigoff will introduce So's Your Old Man (1926; July 12) about a suburban grumpus (W.C. Fields) trying to invent the puncture-proof tire. Like studying film noir, the diving for the rediscovered and the half-forgotten in silent film is work that's never done.

THE SAN FRANCISCO FILM FESTIVAL runs July 10–12 at the Castro Theatre in San Francisco; see www.silentfilm.org for details.
Send a letter to the editor about this story.