07.08.09
home | metro silicon valley index | music & nightlife | band review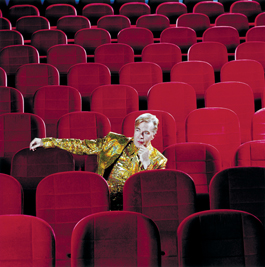 THE CHOICE OF A REGENERATION: Martin Fry performs ABC's hits as part of the 2009 Regeneration Tour, which comes to Mountain Winery on Friday.
A Rebirth of '80s Cool
The 2009 Regeneration Tour is perfectly timed with rock's retro obsession
By Steve Palopoli
MARTIN FRY remembers when '80s music was unquestionably, unconditionably uncool. "In the late '90s," says Fry, "Duran Duran was like a swear word."
As the leader of British '80s hitmakers ABC, Fry charted at home and in the United States with songs like "The Look of Love," "(How to be a) Millionaire" and the U.S. Top 10s "Be Near Me" and "When Smokey Sings." At the height of the band's success in the latter part of the decade, Fry was diagnosed with Hodgkin's disease, a type of lymphoma, and was unable to tour.
A trickle of ABC releases had dried up by the late '90s, but after more than a decade away from the studio, Fry surprised everyone with the album Traffic last year, and joined the first Regeneration Tour, a package of big-name '80s pop bands.
This year, ABC was promoted to headliner of the 2009 Regeneration Tour, and returns to Mountain Winery on Friday with Berlin, Wang Chung and Cutting Crew. The tour arrives in Saratoga just two days after the sold-out appearance of another '80s act—Duran Duran.
Its timing of this year's tour couldn't have been better. In the year since the 2008 edition, the '80s sound has become the hottest thing around. Boston's Passion Pit has given the throwback dance party an indie cred that's seemed unthinkable ever since Nirvana broke almost two decades ago. Since then, electronic music has had to be geek-smart, electroclash angry or cool as ice to be taken seriously.
But the new wave of New Wave is different. There's a return to a certain innocence and playfulness—it's the first truly fun synth music to find a mass audience since Michael Jackson ruled the airwaves. His death, and the subsequent explosion of demand for every beat he ever touched, is likely to push this '80s comeback to new heights. Already, Jackson's glove prints can be heard in the high pitch and angular synth notes of Passion Pit's "Sleepyhead," the song that arguably touched off the retro trend in the first place, or the kid-chorused "Little Secrets" from their debut album Manners.
"There are quite a lot of young bands with an '80s flavor. Lady Gaga and the Killers, there's definitely an element of that maverick spirit," says Fry. "The 1980s has been revitalized and reinvented, and I think it's going to be reinvented again now that Michael Jackson has died. If Michael Jackson walked into an A&R office today, he wouldn't get signed."
It's not just Jackson whose influence is on the rise. The Yeah Yeah Yeahs' latest album is pure '80s revival, from the Blondie vibe of their hit "Zero" to the New Order moodiness of "Hysteric." Prince, the one '80s pop icon who never seemed to lose his cool factor, has been imitated by alt-rockers like Beck and the Flaming Lips. And L.A. duo Chester French had everyone from Kanye West to Pharrell Williams interested in making their record on the strength of their song "She Loves Everybody"—the opening of which is pure ABC.
'Love' in the Balance
Perhaps what's held up most about ABC's music, especially their classic 1982 debut The Lexicon of Love, which was one of the best albums of the decade, is the balance of dance hooks with conceptual lyric hooks, the end result as mental as it was physical.
"We wanted to make funky tunes that would compete on the dance floor, but we were reading NME, too. We loved Bowie, and Bowie's stuff was quite cerebral when I look back on it now," says Fry.
The pop gloss of ABC's music and image, from the orchestral swells to the arthouse videos to Fry's trademark gold lamé suit, masked an edgier side.
"I grew up listening to punk bands. I loved punk," he says. "But we wanted to do something shinier, something bigger. There's a lot of stuff we were doing that was very experimental. Bands are getting back to that—something more ambitious."
Lexicon of Love's success might have earned ABC enough cachet to milk a post-punk Roxy Music shtick for their entire career. But following in the footsteps of his chameleonlike idols Bowie and Andy Warhol, Fry felt the need to change direction with every album. ABC's second, Beauty Stab, was a guitar-heavy rock record that didn't make much of an impression. Then, with the band pared down to himself and longtime guitarist Mark White, Fry hired two members who didn't play instruments for the next one, How to Be a ... Zillionaire. Once again, the move was met with disbelief.
"In Britain, they didn't like it. They didn't want to put out the record," says Fry.
He felt vindicated, however, when "Be Near Me" gave ABC its first American Top 10 hit. Another single, "(How to be a) Millionaire," was the group's hardest-edged dance song yet, and contained some of the cleverest of Fry's trademark lyrical couplets, like his vision of the future: "Larger than life and twice as ugly/ If we have to live there, you'll have to drug me."
"Coming out of punk rock, having something rhyme was pretty radical," he says. "There are a lot of jokes in there as well, there's a lot of humor. I loved John Lydon and Lou Reed and Sly Stone, great lyric writers."
It was around this time that Fry was diagnosed with Hodgkin's, and had to turn down huge offers to tour in support of their stateside success.
"The ironic thing was it was when 'Be Near Me' was on the charts," he says. "It was very frustrating to have to go from that to a cancer ward. But I was very fortunate. When I got well again, I wrote 'When Smokey Sings.' I was so relieved to be around, and was really enjoying how music makes you feel."
"When Smokey Sings," from 1987's Alphabet City, turned out to be ABC's biggest hit. After experimenting with house and techno, Fry and White parted ways in the '90s. But VH1's Bands Reunited brought drummer David Palmer, who had played on Lexicon of Love, back into the fold in 2004, and in 2008 they released ABC's first album in 11 years, Traffic.
"I hadn't written songs for ages," Fry says. "It was a lot of fun, and there was a lot of freedom."
He's discovered on these tours that he's been rediscovered.
"There's a younger generation coming through who've seen it all on YouTube," he says.
He's not surprised that the '80s sound has come back around, since despite the ups and downs, he remembers it as an inspiring time in which artists were encouraged to experiment.
"We always thought we were ahead of our time, or a couple steps behind it," he says. "We made some fantastically idiotic moves. But I'm happy where I'm at. I'm very lucky to be here now, and that's why I enjoy touring so much."
And whether the '80s comeback thrives or dies, what's important to Fry is that fans still want to hear the songs, and perhaps more than ever, he wants to sing them.
"You don't want to be out there on a victory parade," he says. "You want it to mean something."
THE REGENERATION TOUR stops at Mountain Winery Friday (July 10), featuring ABC, BERLIN, WANG CHUNG and CUTTING CREW. Showtime is 6:30pm; tickets are $45–$65.
Send a letter to the editor about this story.