07.08.09
home | metro silicon valley index | music & nightlife | band review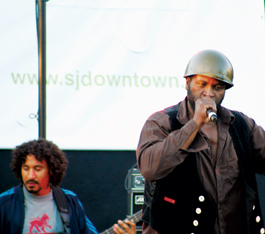 Photograph by Rick Jensen
MAN OR MOUSE? The answer is both as Eek-A-Mouse thrilled the crowd at 2007's Music in the Park.
Eek-A-Mouse
By Garrett Wheeler
WHY LOOK forward to yet another Eek-A-Mouse show—the guy must practically live in Northern California, given how often he plays here, right? Two reasons: the sing-jay pioneer puts on a ridiculously fun show that even reggae-haters can't help enjoy—and it's free. Killer combo, right? Check out one of Jamaica's favorite sons as he Wa-Do-Dems through his annual Music in the Park appearance.
EEK-A-MOUSE performs Thursday (July 9) at 5:30pm at Plaza de Cesar Chavez, Market Street and Park Avenue, San Jose. Admission is free. (408.279.1775)
Send a letter to the editor about this story.