07.08.09
home | metro silicon valley index | music & nightlife | band review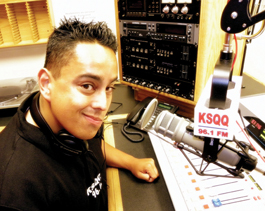 RUNNING WITH THE WOLF: Beer Run Bobby channels his radio hero, Wolfman Jack.
Beer Run Bobby
By Colleen Watson
ON A Saturday night, sitting in the car with friends flipping around the radio dial, I suddenly stop because I swear I just heard Wolfman Jack, but that can't be right. But there he is again, his distinctive gravelly voice pushing oldies through the speakers.
Of course, it isn't Wolfman Jack, it's Beer Run Bobby, who is often possessed by the classic DJ. Beer Run Bobby commands the airwaves from 7pm to midnight every Saturday on KSQQ-FM (96.1). "I'm a big fan of Wolfman Jack; as a kid, I just used to sit there in awe of him. Me and my father used to dance in the living room to oldies." Robert Saenz, known as Beer Run Bobby on the air, has had his radio show for about three years, two of those on KSQQ. Basically, it consists of a high-energy Bobby playing oldies, cracking jokes and making prank calls to hapless victims. "I have listeners call in, and we come up with little scenarios that make [the victim] lose their mind." But making people laugh is not his primary objective, Saenz said. "I do what I can to give the community a voice." People call in and say what's on their minds be it positive or negative.
He also gives back to the community and works closely with the Chavez Family Vision and is currently helping the Eastridge Little League. "My show and I are going to rebuild the Eastridge Little League home-run fences. I want to get the kids excited about baseball." Saenz credits Rudy Chavez Medina, nephew of Cesar Chavez and president of the Chavez Family Vision, as his mentor and getting him more involved with the community. Saenz hosted the Cesar Chavez Festival and is working on the Si Se Puede comedy show in which all proceeds will go to the Chavez Family Vision.
Send a letter to the editor about this story.