07.08.09
home | metro silicon valley index | music & nightlife | band review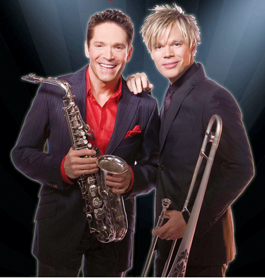 MUSICAL PAIR: Dave Koz (left) and Brian Culbertson appear Friday at Montalvo.
Righteous Koz
By Garrett Wheeler
SMOOTH JAZZ: you either love it or you really, really hate it (whether or not you enjoy riding in elevators may determine which group you're inclined to fall under). Enthusiasts undoubtedly revel in the laid-back grooves and unpretentious melodies smooth jazz offers, while critics will point to the genre as a sign of the jazz-apocalypse. Either way, Dave Koz is one of the biggest names in pop jazz, issuing feather-light melodies from his saxophone alongside synthesizers, drum machines and maybe a few background singers. Brian Culbertson also appears.
DAVE KOZ AND BRIAN CULBERTSON appear Friday (July 10)at 7pm at Montalvo Arts Center, 15400 Montalvo Road, Saratoga. Tickets are $45–$79.50. (408.998.TIXS)
Send a letter to the editor about this story.