07.08.09
home | metro silicon valley index | the arts | stage | review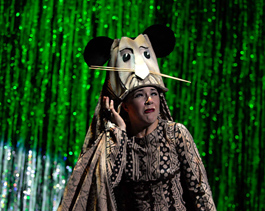 Photograph by Marion Bradley
ROARING SUCCESS: Even 'The Lion King' gets mocked in 'Forbidden Broadway.'
Broadway Babylon
SJ Rep presents 'Forbidden Broadway,' a refreshingly vicious satire of the theater world
By By Steve Palopoli
SAN JOSE REPERTORY THEATRE is opening its doors to two touring companies this summer, and the first one is a riot. Forbidden Broadway, a long-running, rapid-fire spoof of all things musical, is a must for drama geeks, Wicked devotees and anyone who has ever sat through an Andrew Lloyd Webber production.
Running every day through July 12, the touring show completes its short stay just two days before the arrival of improv troupe Second City's five-night stand. Forbidden Broadway started as a cabaret act in New York in 1982. Nurtured by creator Gerard Alessandrini into a mini-industry of theater-biz savagery, it won a Tony in 2006 and is now on its 25th anniversary tour.
It is obvious that Alessandrini has staked his reputation on sly, insider humor, with hand-grenade timing—blow it up and move on. The parodies come in quick succession, and the limited time for set-up actually helps to keep the bits accessible even to the barely Broadway literate.
For instance, even if you don't know that the Sarah Brightman character is singing "Time to Say Goodbye"—hell, even if you don't know who the former Phantom of the Opera star and Lloyd Webber partner is in the first place—you'll get the joke the minute she starts hitting the outrageously exaggerated high notes. With the lyrics changed to portray Brightman as a starring-role gold-digger and mock her warbling, it's one of the funniest moments in the revue.
But almost every send-up has some laugh-out-loud moments. The Chicago parody makes fun of Twister-esque choreography and jazz fingers from "saucy Fosse"; Man of la Mancha's song wants to "clear the unclearable throat." Les Miz takes a beating: its endurance as a Broadway staple is feted with "go smoke some crack, 'cause guess what just came back?" Another song rails against the souvenir fetish of big productions by imagining chocolates shaped like orphans. Phantom, Wicked, Hairspray and more all take their lumps. The best thing about Forbidden Broadway, though, is that it doesn't just settle for "Oh, it's a crazy business, but we love it." There's some subversive stuff in there, especially in the way it hits the Disneyfication of theater over and over again, decrying an age in which serious, meaningful dramas can't compete with puppets and mermaids. Yeah, it's all in good fun, but it's got teeth, too.
FORBIDDDEN BROADWAY, presented by San Jose Rep, plays July 8-10 at 8pm, July 11 at 3 and 8pm and July 12 at 2pm at 101 Paseo de San Antonio, San Jose. Tickets are $40-$60. (408.367.7255)
Send a letter to the editor about this story.