07.08.09
home | metro silicon valley index | columns | style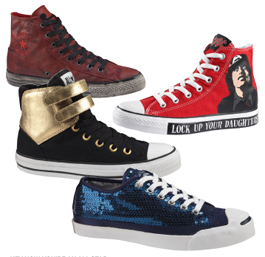 HEY NOW YOU'RE AN ALL STAR: (From top left) Red John Varvatos edition Chuck Taylors; AC/DC's Angus Young's images stares out from a pair of their limited edition sneakes; All Star two-straps show off gold detailing; a glitzy Jack Purcell Sequins shoe.
Converse Nation
By Jessica Fromm
PEOPLE CAN really never have too many Chuck Taylors. First sold in 1917 and a staple of the punk look, the grunge look and now pretty much any casual ensemble, Converse Chuck Taylor All Star sneakers have truly seen a surge in popularity these last few years. They, along with the Jack Purcell sneaker and One Star shoe, have made Converse a brand that will never go out of style. Now owned by Nike, the company's diverse range of footwear comes in a virtually immeasurable plethora of colors and looks. Joshua Mueller, a Washington State resident, even holds a world record for his collection of Converse shoes, which currently contains 820 different pairs.
In 2009, Converse is continuing its tradition of creating new standout silhouettes and constructions for footwear. The company is tapping into the still-raging plaid trend by applying it to its Chuck Taylor All Stars, in collaboration with outdoor clothing company Woolrich. These cozy new sneaks will be perfect when the weather grows nippy this fall.
Thanks to the likes of Lady Gaga and Beyoncé, sequins are back and more popular then ever. Shoppers can indulge in a little glitz with Converse's Jack Purcell Sequins line, available this summer. Like disco balls for feet, these glitter-covered shoes are statement shoes.
Continuing the glam theme are Converse's new Chuck Taylor All Star X-Hi, knee-high versions of their classic basketball shoes now available in outrageous gold. Also, the Chuck Taylor All Star 2 Strap shoe features a sexy two-strap metallic pop.
Brand-new this year is Converse's new line of Chuck Taylor–inspired All Star Outsider boots. Back in the day Converse was well known for its rubber boots and rain gear, and this new spin on its classic product is highlighted with an All Star patch, perfect for adding attitude to a rainy day outfit.
Since the dawn of rock & roll, Chuck Taylors have had a hollowed relationship with musicians and artists, everybody from the Ramones to Nirvana. Converse has been capitalizing on this with its musical collaboration lines of limited edition footwear. This season sees AC/DC and Metallica getting their own collections of Chuck Taylors, decorated with the group's images, graphics and logos.
Finally, for a truly hard-core touch, Converse lovers can now even buy their shoes pre-scuffed and looking like they've been dipped in grime.
Send a letter to the editor about this story.