07.09.08
home | metro silicon valley index | the arts | dance | review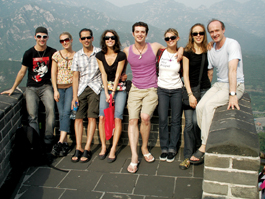 Photograph by Maximo Califano
High Steppers: Ballet San Jose's Peter Hershey (from left), Shaina Leibson, Raymond Rodriguez, Shannon Bynum, Maximo Califano, Sarah Stein, Kaleena Opdyke and Daniel Gwatkin take five on the Great Wall of China.
Once Upon A Time in China
Ballet San Jose returns from six weeks in China with tales of delights and delays
By Marianne Messina
STORIES from Ballet San Jose's May–June "goodwill" tour through seven Chinese cities make China seem a lot like a ballet: beautiful to an audience, hard work for the performers and hell behind the scenes. China's dense cities treated the company to huge, brand-new, beautiful theaters that, according to Ballet San Jose artistic director Dennis Nahat, only our Metropolitan Opera House can rival.
And the tour met with appreciative success—members of the Ministry of Culture gave their coveted praise in superlatives, and theater directors from all over China approached Nahat about coming to their city. People told Nahat and lighting designer Kenneth Keith that they had taken second jobs or spent two weeks' wages to buy tickets to the show. At shows, cameras flashed ("like a rock concert," Keith notes) and people narrated the action into cell phones.
According to Pi-ching Hsu, a San Francisco State University associate professor of history specializing in Chinese history, the ballet art form only survived mainland China's Cultural Revolution because it was (falsely) attributed to China's ally, Russia, and therefore considered a "revolutionary" art.
This designation aligned ballet with popular arts like Peking Opera. "In the Peking Opera theater, the audience would be loud and rude—that was the tradition," Hsu explains. Many a Ballet San Jose blog reports audiences chatting loudly and even slurping noodles during performances.
As the tour's chief mother hen, Nahat spent much time "screaming at the airport people," trying to get buses after hours of waiting, insisting, against protests that he monitor luggage searches, and dispatching ongoing visa/passport hurdles.
The morning I met Nahat, back in San Jose, he had been up all night. Lead dancer Maykel Solas was still stranded in China, and his limited visa for the Cinderella tour was about to turn into a pumpkin. "At noon, he had to check out of the hotel because the hotel would not keep him as a guest without a validated Chinese visa."
Nahat launched networks of phone calls through embassies, congressional leaders, lawyers in Atlanta and very benevolent friends in China. Just hours before Solas' hotel room would become a Beijing park bench, his passport arrived.
Passport issues pursued the six-week tour. "I had some trouble with my passport," says lead dancer Alexsandra Meijer, who danced The Firebird (along with Maria Jacobs). A resulting complication—"I ended up using up all the pages [in my passport]"—has delayed her summer trip to South Africa, where her sister just had a baby.
But the Chinese tour also brought Meijer to the Yellow Crane Tower in Wuhan, a silk factory in Hangzhou, impressive temples with immense Buddha statues and a glimpse, in less progressive cities, of the nation's underbelly. "There are, like, these tiny, small hole-in-the-wall places where the people kill food right in front of you. They sit down on the ground and throw it in a pot right next to them."
While Meijer cites the endless waiting as the worst part of an otherwise fascinating journey, hassles were somewhat forgiven on a trip sandwiched between a national disaster and the Summer Olympics. Planes were delayed and trucking the scenery was prohibitively bottled up because military flights and convoys to the flooded earthquake region took priority.
But behind the scenes, the nastiest nightmares were reserved for the tech crew as they worked with house production teams untrained on their own new, high-tech equipment. Hsu likens this unsettling situation to Chinese department stores that "look gorgeous and luxurious but have few goods on sale." The dichotomy comes from the current Chinese mind-set as Hsu explains it: "They are making themselves ready for the future, but have not 'been there' yet."
In addition to reprogramming, rewiring and jury-rigging equipment, ballet techs met obstacles like having to call Hong Kong for permission to insert the lighting program disc into the board. As the in-house crew changed every day, the "collaboration" rather resembled a tutorial. That, in fact, was what it was, according to Hsu: "They probably expect the Americans to teach them how to use the hardware." From wardrobe to stagehands, the ballet team found themselves training new crews across a severe language barrier on a daily basis.
"Each show reinvented the wheel," Nahat recalls. "We were wondering in the lighting booth if we were even going to make it to the end," says Keith of one glitch-wracked show. "It was live, it was raw, it was great!" Keith left frustration behind and "got over himself" after two students, mentioning the sacrifices they made to be at the show, "melted his heart."
On overdrive because of the Olympics, security nevertheless proved to be an inherent part of Chinese life. "Although it's very free, you can rest assured you're being watched," says Nahat, "in the hallways, in the theater lobbies, in the dressing rooms, in the hotel lobbies."
Beneath the state-of-the-art sound and lighting systems imported from Europe, "Communism is alive and well in China," Meijer observes. "In every taxi they would have their Mao memorabilia." Nahat got a firsthand view of the surveillance apparatus when a dancer reported losing his cell phone in one theater. "We went back upstairs through the catacombs, up six steps with a wall that was barricaded, and finally I get to this room with all of these electronics and this guy sitting there," from which Nahat concluded, "They are wired."
Seated in the audience at one show, Nahat experienced a nutshell metaphor for this amazing China tour when a scrim stuck partway in the air just before Kastchei (Maximo Califano), the Firebird villain, bursts from his cave. The glitch created pure chaos onstage, Nahat reports. "I said, 'I don't know what's going to happen, but here it goes.'"
Ultimately, the dancers rolled out underneath the scrim, Kastchei made a miraculous entrance to the music's dramatic "ba-boom" and "everything got into place at that moment," according to Nahat. "I could never in my wildest dreams choreograph that scene like it happened!" Just as the China tour would indicate, when vision, championed by tireless persistence, wrangles with chaos, it often attracts a miracle or two.
Send a letter to the editor about this story.