07.09.08
home | metro silicon valley index | silicon valley restaurants | review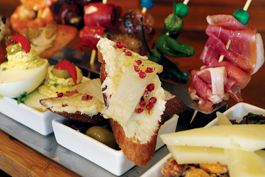 Photograph by Noelle Luchino
Taste Treats: The Cin-Cin sampler plate offers tastes of the restaurant's specialties.
The Good Life
Cin-Cin captures everything that makes Los Gatos special
By Stett Holbrook
LOS GATOS is like that beautiful girl in high school who was great at sports and brainy enough to get into Stanford. You wanted to hate her, but she was so damned nice and down to earth you just had to surrender to her charms even if she'd never go out with you. Sigh.
Los Gatos seems to have everything going for it, too. It's got beautiful people, a vibrant downtown, lush parks and the verdant glory of the Santa Cruz Mountains as a backdrop. It's a wealthy town for sure, but somehow it's not in your face about it.
If that weren't enough, Los Gatos has some of Silicon Valley's best restaurants, including Manresa, Dio Deka and Trevese. With the opening of Cin-Cin Wine Bar two months ago, the city has another feather in its cap.
Cin-Cin (pronounced "chin-chin," Italian for "to your health") is a joint venture between veteran restaurateur Don Durante, who owns Cascal in Mountain View, and high-tech-executive-turned-sommelier Lisa Rhorer. The restaurant occupies what was Cafe Marcella. It's been remodeled with eco-friendly materials like bamboo, cork, reclaimed black walnut and recycled glass. The result is a light and warm dining room that feels fresh and inviting.
Although it's only been open since early May, Cin-Cin has already attracted a crowd of locals who seem to love the nibble and sip scene. The women who come here have an understated, casual elegance. No flashy jewelry or rhinestone-studded blouses, just label-less designer clothes, luxurious hair and the healthy glow of hours spent on the yoga mat. Men aren't quite as well put together, but most sport well-fitting jeans, expensive leather shoes and golf course tans.
The heart of the menu is an eclectic mix of small plates, tapas-size dishes that partner well with Cin-Cin's great wine list. Chef Chris Scholss' cooking is rooted in the Mediterranean, but makes stops in Germany and Japan as well. It's an exciting menu, and there's a lot to recommend.
The Cin-Cin sampler ($23) is a great opener. The wood and metal platter is festooned with an assortment of seven little snacks. They're all quite good, but the luxurious chicken livers whipped with raisins and goat cheese, the togarashi pepper-crusted chilled shrimp and the salt cod brandade with braised fennel and olives are superb. You could eat this last dish and leave quite happy.
But you should stay and eat more.
Roasted padron peppers with strips of nori and black sesame seeds ($8) was listed as a special during one of my visits, and it was a delicious and creative combination. Pickled watermelon salad goat cheese and watercress ($11) was another special. I say the watermelon was heavily marinated: my table mate said it was lightly pickled. Where does marination end and pickling begin? Profound questions, to be sure. In any case, it was a refreshing summer salad that would have been even better had the fruit been more chilled.
I couldn't get enough of the black cumin spiced lamb albondigas ($9.50), three succulent meatballs chilling on a plate with a harissa (North African red pepper) sauce and cucumber yogurt.
The smoked black cod ($12) is a real standout. The beautiful piece of fish looks like polished mahogany with all its grains and swirls of color. It tastes like biting into a cloud of smoke. The applewood flavor is a bit intense and I would have dialed it back a bit, but the fatty richness of the wonderfully moist fish is great paired with the mustard-seed-flecked German potato salad and cool crème fraîche.
At first I dismissed the sliders ($11) on the menu, thinking they were just a bone thrown for less adventurous diners, but the three mini-hamburgers are undeniably delicious. Made with grass-fed beef, the baby burgers are served with grilled onions, cheddar fondue and smoky chipotle mayo. I'm a believer now.
The one dud was the crispy tuna crudo ($13), a bland hunk of tuna that was supposed to be cloaked in a crispy tempuralike crust but instead was smeared with a gooey paste. The fried bok choy served on the side was great though.
There are a few larger dishes on the menu if you're looking for something more substantial. The Muscovy duck special ($24) was fantastic, succulent slices of meat fanned out on a plate with a stewed cherries, puréed carrots and a silken rioja sauce. Braised lamb shoulder ($23) was truly fall-apart tender and tasted more like a pot roast. The plate is a little busy with minty fava bean purée, roasted potatoes, harissa and green beans, but it's still a satisfying, substantial meal.
In keeping with the green theme of the décor and the menu, the wine list features many organic, biodynamic and sustainably made wines. It's an exciting list that befits the globetrotting menu.
I really liked some of the lesser known, food-friendly white wine varietals like Greece's 2007 Athiri "Sigalas" and the 2006 Ecker Gruner Veltliner from Austria. There's a full bar and even sakes and a good list of beers with suggested food pairings.
Cin-Cin offers many wines by the glass and several intriguing wine flights. The "wein wonderland" flight ($15) offers three Austrian whites including the Ecker Gruner, a 2006 Hirsch Riesling and a racy, un-oaked 2005 Prieler Chardonnay. They're great, refreshing summer wines that matched up well with the smoked black cod and the watermelon salad.
Service is great and even a bit overstaffed. Owner Don Durante makes the rounds like a good restaurant owner should. Our friendly waitress for dinner had the menu down cold and made several good recommendations. Her enthusiasm for the food was infectious. I wouldn't have ordered the beignets, but I followed our server's advice and I'm glad I did.
If you only order one dessert, make it those beignets ($7), three round little donuts filled with molten cheesecakes that oozes out as you take a bite.The smear of strawberry sauce served with them is superfluous, but the honey and chocolate dipping sauces had my eyes rolling back in my head in an over-the-top, indulgent kind of way.
The chocolate soufflé ($7) is more of a moist cake. It's good, but I found the bitter bite of orange in the dessert too much. Also good is the moist polenta pound cake ($7) topped with rhubarb and strawberries. The pool of basil oil and fantastic yogurt gelato on the side elevate it beyond the ordinary.
There's also a great cheese list, if that's your thing.
Maybe you can't afford to live in Los Gatos, but Cin-Cin serves up a delicious slice of the good life, if only for one night. And you can always come back for more. I know I will.
---
Cin-Cin Wine Bar
Address: 368 Village Way, Los Gatos
Phone: 408.354.8006
Hours: 11:30am–11pm Tue–Thu, 11:30am–midnight Fri, 5pm–midnight Sat and 5–10pm Sun
Cuisine: Eclectic wine bar
Price Range: Small plates $9–$14; large plates $19–$28
Website:cincinwinebar.com
Send a letter to the editor about this story.