07.09.08
home | metro silicon valley index | movies | current reviews | film review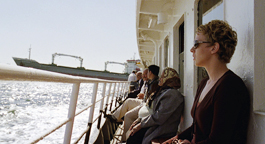 ISTANBUL CALLING: Patrycia Ziolkowska enters the circle of characters in the complex weave of 'The Edge of Heaven.'
Turkish Insight
Fatih Akin tells a multifaceted story of reconciliation in 'The Edge of Heaven'
By Richard von Busack
WITH THAT peculiar synchronicity that works in art-house theaters, there are two new movies opening this weekend that touch on the story of Abraham and Isaac. One is My Father, My Lord, opening in San Francisco only: a fine impressionist drama of the ultrareligious life in Israel. A bearish, devout rabbi is made to honor the most brutal commandment: to give God your love and your praise after he injures you beyond hope of repair. As a less-religious Jewish commentator once said, "if God lived on Earth, people would throw rocks at his windows." The other film is The Edge of Heaven, yet another incisive and beautifully crafted picture by Fatih Akin (Head-On, etc.). The film won the best screenplay at last year's Cannes, and it's apparent why. Akin is working in Spike Lee's terrain, probing the space between radicalism and unbearable injustice. One is never really clear about who the main character is. As the angles change, so does The Edge of Heaven's human focus.Within a pair of concentric circles, Akin draws in the story of two sudden deaths. They ripple outward, affecting people in Hamburg, Bremen and Istanbul. At one point, the main character seems to be a virile old Turkish immigrant called Ali (Tuncel Kurtiz, the Bob Hoskins type). One afternoon, he wanders into Bremen's cheery-looking red-light district, where the girls sun themselves on brick porches. He picks up a rough-looking hooker called Yeter (Nursel Köse, excellent). Later, when he wins 700 Euros on a long-shot horse, Ali asks the lady to be his kept woman. He has a good cultural excuse for this arrangement, a proverb: "Only Allah is entitled to solitude."
Meanwhile, Ali's long-faced son, Nejat (Baki Davrak), comes home from another dull and unrenumerative day lecturing to 12 students, one of them fast asleep. At home, he finds his father's new consort waiting at the dinner table. Later, after tragedy strikes, Nejat goes to Istanbul to try to find the prostitute's long-lost daughter. More crisscrossing ensues. The daughter, Ayten (Nurgül Yesilcay), is wanted as an armed revolutionary by the Turkish police; she flees for safety in Germany. Even though she's living penniless on the street, the guarded, dangerous-looking radical draws in and seduces a blonde college student (Patrycia Ziolkowska), which hardly pleases the student's mother, Susanne (Hanna Schygulla).
This merry-go-round of figures, changing places and cities, weaves together German and Turkish cultures. There are times, and I think they're deliberate, where we focus in on a city street and it's not clear right away if it's Turkey or a Turkish neighborhood in one of Germany's cities. And this approach never seems like false, naive multiculturalism; it seems like the harmonies of a real artist. The Edge of Heaven sums itself up on the Islamic feast of Bayram. This holiday commemorates an incident in which Ibrahim took his son Ismail up the hill, carrying a knife. When the wayward son Nejat remembers his father's retort to that biblical story of submission, it's the perfect answer: the one that many of us sons have been waiting for all our lives.

THE EDGE OF HEAVEN (Unrated; 122 min.), directed and written by Fatih Akin, photographed Rainer Klausmann and starring Nurgül Yesilcay and Baki Davrak, opens July 11 at Camera 3 in San Jose.
Send a letter to the editor about this story.