07.09.08
home | metro silicon valley index | movies | current reviews | film review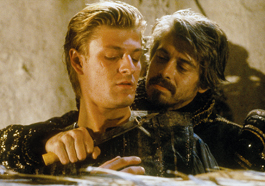 BLADE RUNNER: Caravaggio (Nigel Terry) has it out for Ranuccio (Sean Bean) in Derek Jarman's period piece.
All That Glitters
Gay British director Derek Jarman raged against Thatcher's England in his innovative films
By Richard von Busack
IN MOVIE POETRY, it's not always the hard rhyme that triumphs. It's the slightly jarring, unfulfilled purpose that haunts, not the image as perfectly balanced as two cartoon swans forming a heart shape with their necks. The poetry of director Derek Jarman is seen in the new Zeitgeist release Glitterbox. The filmmaker has also been memorialized in Isaac Julien's new documentary, Derek, shown at this year's Frameline film festival in San Francisco. Critic Rod Armstrong called the latter "a cri de coeur for a time when queer cinema insisted on being defiantly outside the mainstream." The queer cinema that Jarman exemplified has evolved into the niche-marketed date movie of today. Seemingly every social victory means an artistic defeat.
The four-disc set includes, among interviews, commentary tracks and other extras, Caravaggio (1986), Wittgenstein (1993), Jarman's last film, Blue (1993), and the Super 8 experiment The Angelic Conversation (1985), with Judi Dench reading from Shakespeare's sonnets. The posthumous collage film Glitterbug brings us sights and scenes of Jarman's life; the grime of cheap tea shops and the progress of the river traffic by his Thames-side home.
Jarman's films are essential to understanding the satin-wrapped barbarism of the Thatcher years. After concealing his sexuality into his early 20s, Jarman and other British gay men were faced with the threat of Section 28, the vaguely written, discriminatory 1988 British law prohibiting the "promotion of homosexuality."
Against the cultural reversals of Thatcherism, Jarman's mentor Ken Russell mounted slanderous biopics and sexually explicit melodramas. Peter Greenaway crafted his gilt-edged cinematic hate letters to the power elite. Jarman used all the arsenal of camp, of dress-up and makeup. Yet the films in this set are not as camp as Russell's, nor are they mere triumphs of art direction, as Greenaway's films sometimes are. In an excellent interview with Simon Field in this collection, the director calls himself a "small-c conservative" in the arts, seeking the age of Shakespeare as a direction away from the plight of his England.
Caravaggio is his most approachable film. It unfolds in a milieu, circa 1600, similar to '80s London, with gay-for-pay models and bent patrons. Caravaggio (Nigel Terry), the master of chiaroscuro, is dying in exile. In delirium, he recalls a life of brawling, of carrying a dagger, with the punk-rockish motto "No hope, no fear." In flashback, we see a triangle between the artist's rough-trade model Ranuccio (a ruthlessly attractive Sean Bean) and that male model's wench (the wandlike Tilda Swinton, debuting). She herself ascends from kerchief-headed guttersnipe to the courtesan of a cardinal (Robbie Coltrane, seen kissing her instep).
To polish this mirror of the present, Jarman uses deliberate anachronisms. Ranuccio is first seen wearing an ink-stained folded-newspaper hat, like a printer's devil. In a later moment, a critic types up an anti-Caravaggio art review, using a plank over his bathtub for a desk, like Waldo Lydecker in Laura.
It's an appropriately slangy approach to the drama of Caravaggio—Renaissance art is rife with anachronism anyway. Among other achievements, Caravaggio created art for the masses simply by insisting that peasants were the stuff history was made of. See the remarkable Doubting Thomas (1597), with a yokel saint probing Jesus' spear wound, finger up to the first knuckle; Jesus is squinting down as if he can't believe the size of that wound himself. It's the dispassionate, vaguely worried look you've seen on men staring into the guts of a stalled car.
Jarman must have admired Ludwig Wittgenstein for being a homosexual and a movie fan as much as he admired his philosophy. Wittgenstein divines the Cole Porter side of the tense philosopher's career. Sandy Powell's razzly outfits make this brief film an appealing comic vaudeville. Swinton, as Lady Ottoline Morrell, models a series of feathery cartwheel hats. One of Wittgenstein's key ideas, the concept of language as an escape-proof cage, is introduced by a man from Mars (Nabil Shaban) wrapped in chartreuse fun-fur.
Why isn't this gauche? It is and it isn't. While creating vividly colored figures against a blacked-out stage—making the film into basically a graphic-novel adaptation—Jarman sympathizes with the melancholy and shame of his subject. The imperfection is essential to the charm. As we see here, Wittgenstein summed up perfect philosophy as an ice planet—smooth, faultless, firm. This planet is also intractable for the voyager, who will slip and fall as soon as he takes a step forward. There are films like that out there; your eyes slide right off them.
Blue is probably the only feature film ever directed by a blind man. A field of deep Madonna-robe blue remains onscreen during the 78 minutes. Deprived of his sight by AIDS, Jarman (accompanied by musicians from Brian Eno to Coil) lists friends taken by the disease. He recalls anecdotes of the waiting room and afflictions like "a skin like the shirt of Nessus" (referring to the death of Hercules). Three years after Hollywood congratulated itself for making Philadelphia, satisfying itself that the case was now closed, Jarman created a really monumental AIDS film. And here also he succeeded through filmmaking—"the alchemical wedding of light and matter"—to leave his soul behind in the form of shadows on a screen.

GLITTERBOX: DEREK JARMAN x 4; four discs; Zeitgeist; $74.99
Send a letter to the editor about this story.