07.09.08
home | metro silicon valley index | columns | style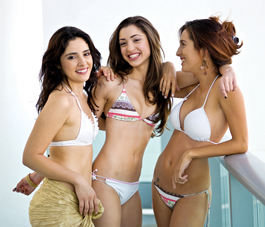 Style
Swim and Bare It
By Joseph Rosenfeld
SWIMWEAR has always been a curiosity to me because so little time is actually spent wearing said apparel in the water. Other than the brouhaha made recently about Speedo's zippy swimwear designed to shave off milliseconds of time from would-be Olympian medalists' scores, most of today's swimwear styles are meant to impress the eyes of "judges" at a pool or beach near you. Here's a rundown of popular styles that will make you look very 2008, even if you're not competing in the summer Olympics.
Women
A tankini is good for cloaking the midsection. The tankini looks like a one-piece but is actually two. Opt for a halter tankini top, with a push-up construction if you need it, and give yourself the optical illusion of the highly desired hourglass figure. The deeper the plunge, the sexier is this swimsuit's style.
If you're a woman with a larger bust, try a two-piece bikini. Create balance on the body by selecting a style with an underwire cup and a supportive strap for proper support and full coverage for an appealing, not overly revealing, style. The right two-piece style will also have a full coverage bikini so your top and bottom are visually balanced. Of course, this season the trendiest bikinis seem to offer minimum coverage. But don't give in just to fit in; better to fit into the proper swimwear.
Newly popular for the woman with a larger bottom is a two-piece swimsuit with a miniskirt bottom and camisole top. Create a curvy waistline with a style featuring shirred sides. Then draw the eye up with a camisole top. Choose a style where the straps can be worn straight over the shoulder or can be crisscrossed in the back for added interest.
If you've got a well-proportioned body, a one-piece style with ruching will flatter the smallest part of the body. One of the nicest benefits of a one-piece swimsuit is the elegance of one uninterrupted silhouette on the body. This year, you'll see asymmetrical one-shouldered styles as well as glamorous retro midcentury styles. Probably the hottest swimwear style of the year is known as the cut-away. It is intended to provide more coverage around the stomach, but with more overall skin exposure.
This season, you'll find pulse-pumping primal prints, avant-garde abstract patterns and midcentury Mod Squad color blocking. Colors are either deep and saturated or light and earthy, all in wide varieties of metallic accents and construction details.
Men
Styles of mainstream men's swimwear don't change so often. The racing suit, boxer-length shorts and board shorts are about as exciting as it gets, unless you're into wearing one of the "why bother" styles that are gaining more exposure (as it were), if not popularity. Men don't seem to buy swimwear at the same frequency as women, and typically there's no reason to, since the styles are fairly constant. But this season there are two reasons to consider getting a new suit. The new length is now above the knee, far from the lengths of the previously popular board shorts. This is good, because shorts that hit below the knee or are very narrow-legged look awkward. If you think men's swimwear either had to be in solid colors or floral motifs, it's time to update the wardrobe with a fresh pair.
Vertical stripes will help to elongate an average proportioned body, while a preppy plaid design of small to medium scale will flatter all body types. Just as midcentury looks are popular for women this year, the same is true for men. Look for a style with a pop of bright retro coloring and by looking to the past you'll be looking fashion forward this summer.
Joseph Rosenfeld, the nation's only male Certified Image Professional, helps men, women and corporate sales, training and service organizations build professional images. Visit www.JRImageMentor.com for more information.
Send a letter to the editor about this story.